Orgyen Chowang Rinpoche: Vajrayana View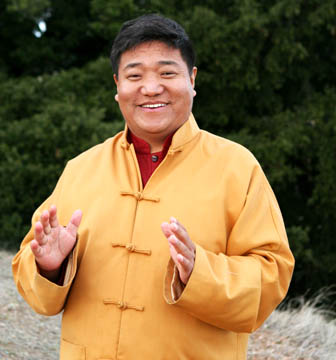 Video Clip of Orgyen Chowang Rinpoche speaking on the Vajrayana View
REGISTRATION
Schedule
Pricing
Text List


During this three-day retreat Orgyen Chowang Rinpoche will teach us how to develop the Vajrayana view. He will explain how to practice Vajrayana meditation and transform our perception to establish a fearless vajra mind.


Rinpoche will identify and elucidate Vajrayana principles according to Maha Yoga and the Guhyagarbha Tantra, showing us how to cultivate these principles in our daily life.

Rinpoche says, if we have proper Vajrayana view and meditation our whole life will be affected, including our interactions, connections with others, and how we relate to emotions and beliefs. At the end of our life, by maintaining the Vajrayana view, our experience of death will be transformed.

"The Vajrayana view affects all aspects of your life and will empower you to live your life majestically and robustly. We are Vajrayana practitioners, we must understand Vajrayana principles." – Orgyen Chowang

Orgyen Chowang Rinpoche's Biography:


Orgyen Chowang Rinpoche is a meditation master in the Nyingma lineage of the Buddhist tradition. He studied for ten years at Larung Gar in Serta, eastern Tibet, with his teacher, Jigmed Phuntsok Rinpoche, who is widely acknowledged as one of the greatest Dzogchen meditation masters of the twentieth century. Orgyen Chowang Rinpoche lives in the San Francisco Bay Area and is the founder and spiritual director of Pristine Mind Foundation. He travels throughout the United States and around the world teaching a broad range of audiences, including those at universities, tech companies and yoga studios, how they can improve their lives through meditation. Orgyen Chowang Rinpoche is the author of Our Pristine Mind: A Practical Guide to Unconditional Happiness published by Shambhala Publications Spring 2016.


From Lama Tharchin Rinpoche:

"It is my heart wish that you come and make a connection with Khen Rinpoche (Orgyen Chowang Rinpoche) as he is truly special. Our lord of refuge Dungse Thinley Norbu Rinpoche has said that this khenpo is unlike any other – really genuine. Not only is his knowledge vast, but he brought this into his experience, so that when he teaches he talks from his heart, which brings authentic penetration."
Location: Pema Osel Ling
2013 Eureka Canyon Road
Watsonville , CA 95076
Date:
Oct. 30, 2015, 3 p.m. - Nov. 1, 2015, 4 p.m.