http://www.vajrayana.org/kudung-ltr/
Kudung Stupa for Lama Tharchin Rinpoche
---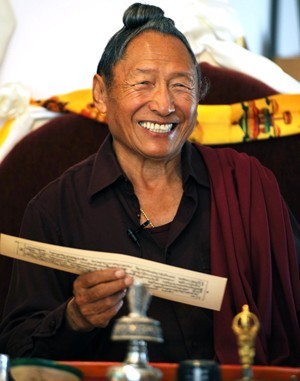 We'd like to let you know about the offering we are making to our most kind teacher, Lama Tharchin Rinpoche.
Following Lama Tharchin Rinpoche's parinirvana, we requested H.E. Dzongsar Khyentse Rinpoche's blessing to build a Ku–dung stupa containing Lama Tharchin Rinpoche's holy relics. In July 2013, Dzongsar Khyentse Rinpoche consecrated the stupa site in the meadow to the west of our shrine room at Pema Osel Ling. Construction on the stupa site began immediately as the details of the project developed.
We excavated the area, poured the concrete base containing electrical conduits for ornamental lighting, carried out the ritual preparations and completed the architectural plans in late 2013. The stupa mandala base has now been finished in colored granite and marble. The Ku-dung stupa itself has been fabricated in India out of extremely precious Vietnamese white marble, based on detailed specifications from Lama Sonam Rinpoche, Tulku Jamyang Rinpoche, and John Reynolds, our resident stupa engineer. The stupa is capped with the traditional golden "thirteen wheels of dharma" spire, which was crafted in Nepal.
The stupa contains:
A sok shing (central channel) made from hand-selected Hawaiian white sandalwood, carved by master artist Lama Phurba, and painted with gold mantras
Relics from Lama Tharchin Rinpoche's Ku-dung (holy body)
Mantras and chakras prepared according to traditional specifications
Beautiful Guru Rinpoche, Vajrasattva Yab-Yum, and Dorje Drolo tsa-tsas small casted sacred images). Some of the Vajrasattva tsa-tsas were made from Rinpoche's own ashes.
Jewels and precious stones
Silks and brocades
Earth Goddess, Naga, Dzambhala, 8 Auspicious and many other different treasure vases
Special grains and herbs
Mandalas and other sacred objects.
To honor Lama Tharchin Rinpoche, our kind teacher, we have made a commitment that Rinpoche's beautiful white marble stupa will be set within a truly worthy "container." In the weeks before passing into parinirvana, Lama Tharchin Rinpoche reiterated the importance of ensuring that the stupas truly be our best possible offerings, assembled of the finest materials, and placed within an appropriately beautiful "container". To this end, we have used only the highest quality materials to construct Rinpoche's stupa. Site and landscaping improvements include inner and outer korwa paths around the stupa, new stairways and railings, perimeter fencing, grading and renovation of the lawn, shrubs and flowers in the immediate stupa area and around the shrine room, and new pavers and stones around the offering fountain.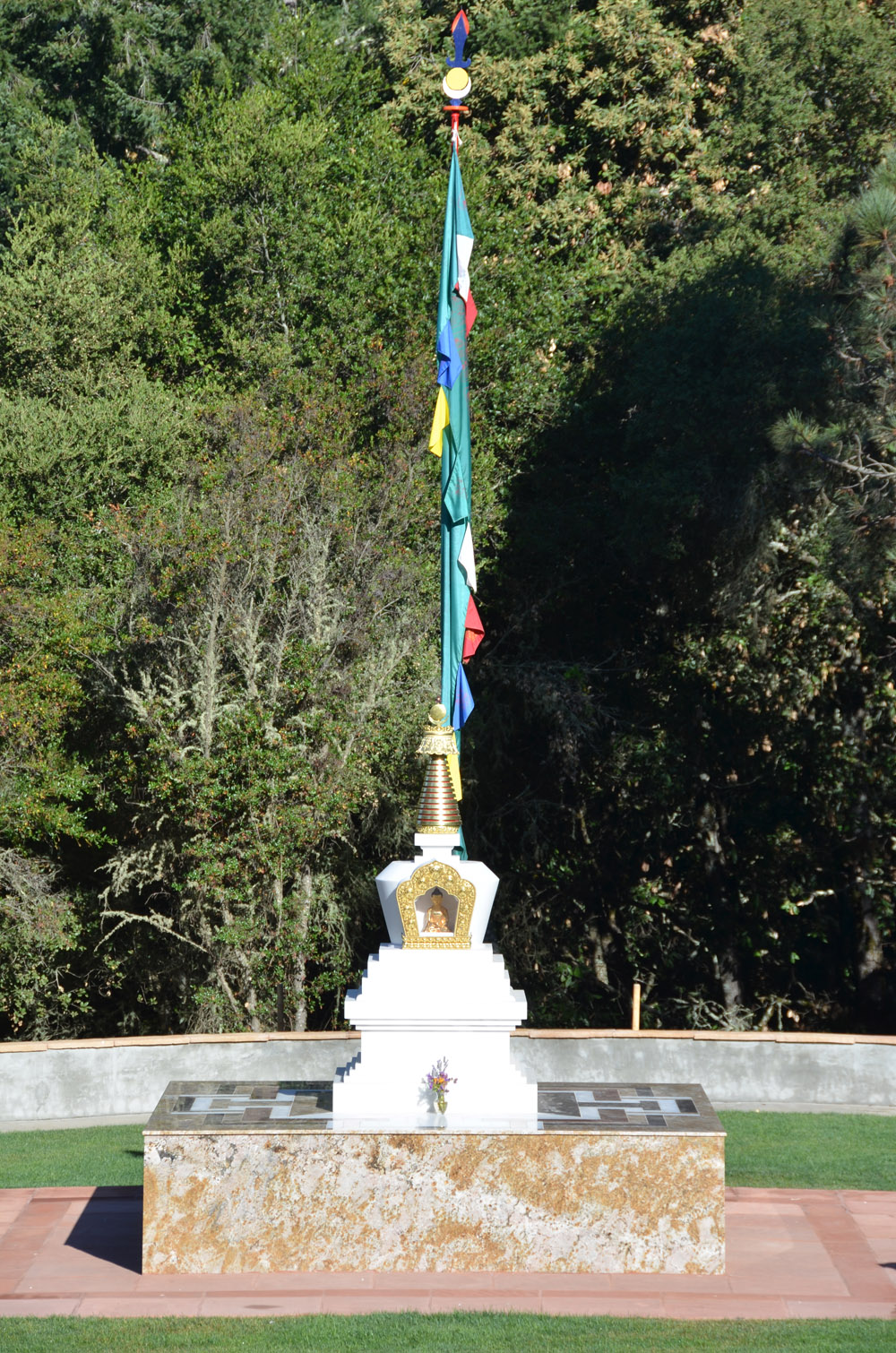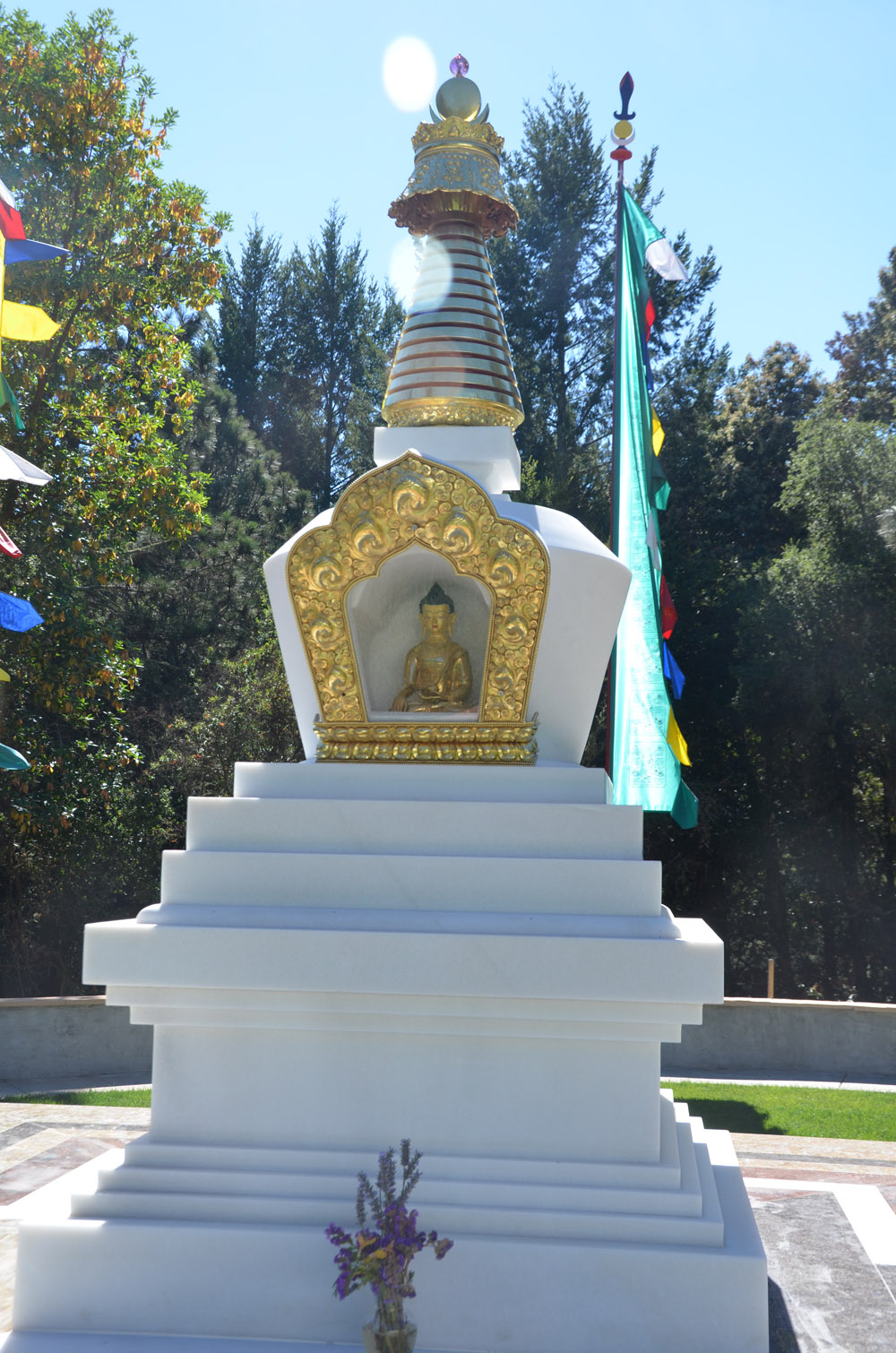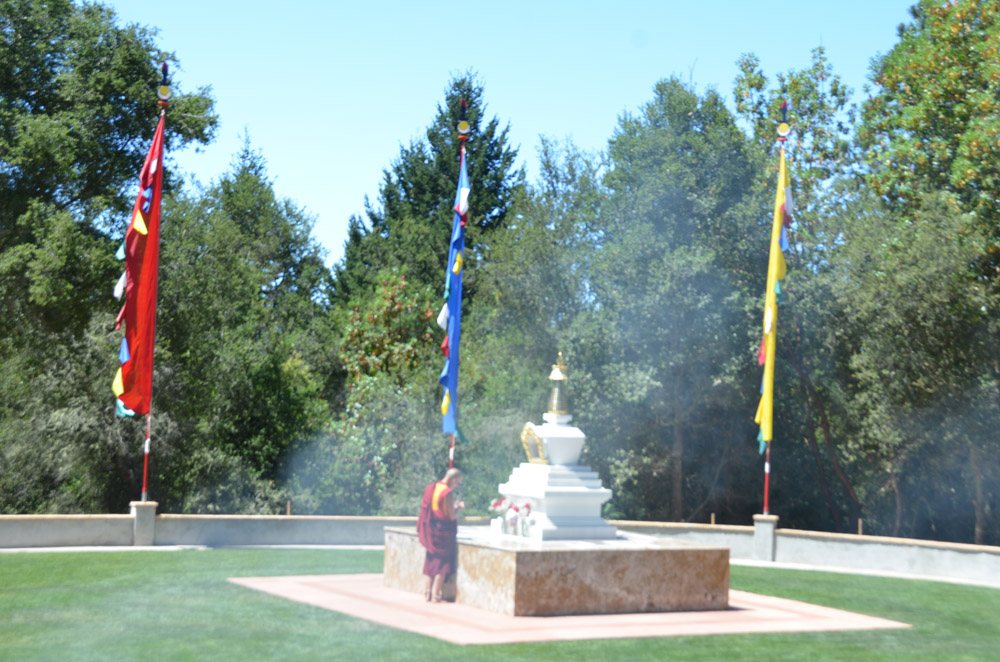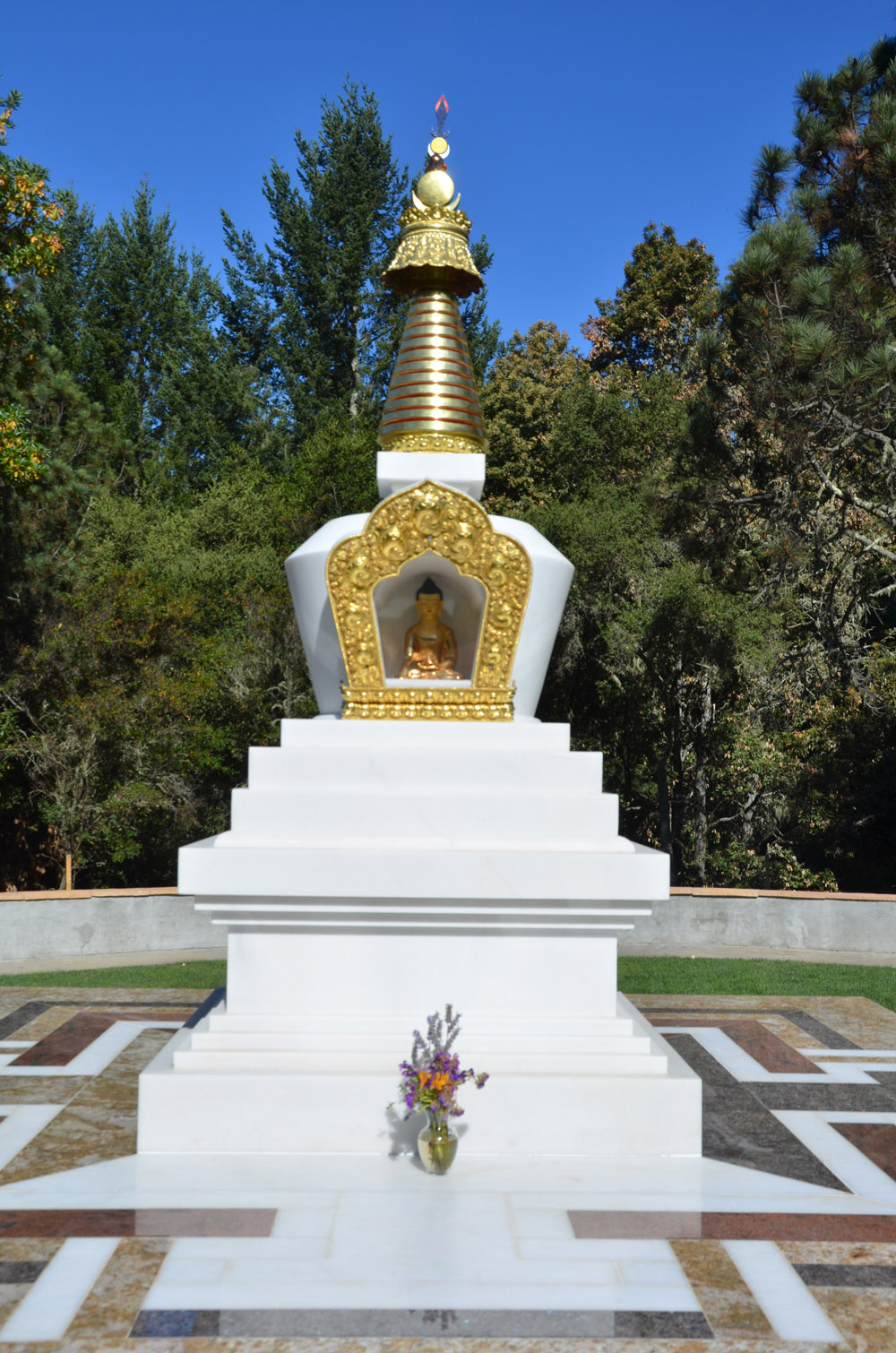 Rinpoche gave us a gift that can never be repaid, as he introduced so many to holy dharma and gave us an example of compassion and selflessness that was beyond compare. We miss Rinpoche from the bottom of our hearts, and to have an opportunity to make this kind of offering to our beloved lama is truly precious.
Due to the generous donations from over 400 of our kind sangha and friends, we met our initial goal and were able to complete the building of the stupas. The structure, contents, ornaments and basic landscaping of the area around Lama Tharchin Rinpoche's stupa were finished by the first anniversary of Lama Tharchin Rinpoche's parinirvana on August 8, 2014.
Thank you again to everyone who has given financial and physical support to these "holy objects of refuge". For those of you who have been intending to give and may not have had the opportunity to do so, we want to let you know that you may still make an auspicious connection. We will be accepting donations for additional beautification of the stupa areas and for the future ceremony to consecrate the stupas (rab-ney). You may contribute with a general monthly or one-time donation to the Lama Tharchin Rinpoche Stupa Fund.
Read below excerpts from a March 2013 teaching Lama Tharchin Rinpoche gave about building the Ku-dung stupas for H.H. Dudjom Rinpoche and Dungse Thinley Norbu Rinpoche.
"Among compounded offerings, the most beneficial is pleasing the lama. When the lama is alive, we can offer whatever pleases the lama. If the lama has passed from this physical world we can build a Ku-dung stupa with the lama's relics. This Ku-dung stupa will be equal to the lama when alive -- the connection never changes and the blessings that can be received by making offerings are the same. With great respectful mind, we can make mandala offerings, and with imagination, whatever material offerings we make can fill the entire universe. Of all the virtuous actions that accumulate merit, the highest, most supreme one is to be connected with building a Ku-dung stupa because…right after this lifetime, you will actually meet your lama. You can dedicate your offering to anything that you wish, for loved ones, pets, living or dead. The merit is not just for this life. You can dedicate it for future lives and it will continue to increase until we reach enlightenment all together in this sublime mandala!"
Thank you for supporting Lama Tharchin Rinpoche's Ku-dung stupa, Pema Osel Ling and Rinpoche's vision.
To read about the Dudjom Kudung Stupas click here.