The Vajrayana Foundation Library of Sacred Texts at Pema Osel Ling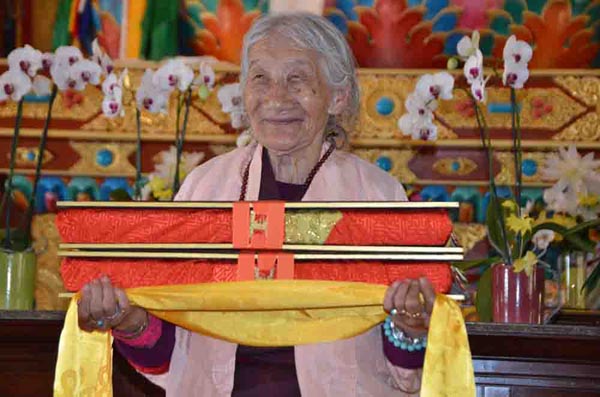 It had long been one of Lama Tharchin Rinpoche's aspirations to create a library at Pema Osel Ling to house the sacred Buddhist texts that Lama Sonam Rinpoche brought from Asia in 1989. This collection of over one thousand texts is comprised of the Kangyur (Buddha's teachings), Tengyur (commentaries of Buddha's teachings) and all the volumes of the Nyingma Kama (long lineage teachings) and Terma (treasure teachings).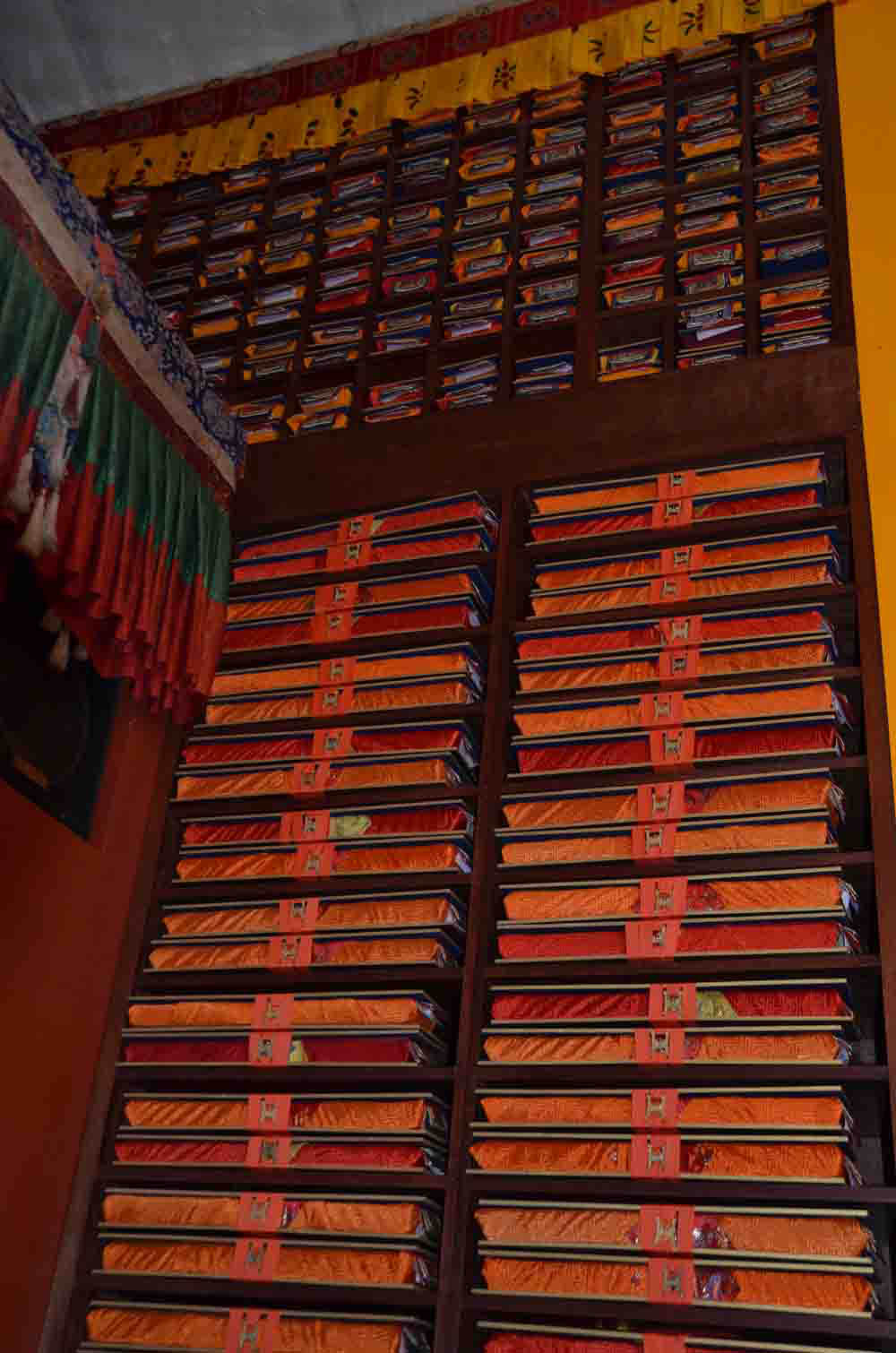 For many years, these precious texts were stored in several locations here at Pema Osel Ling. While they were temporarily safe, they had no hard covers or permanent cabinets and had to be moved from time to time due to lack of space and other issues. There was a growing concern for their longevity.
As we started the process of fulfilling Lama Tharchin Rinpoche's many wishes after his parinirvana (gong dzok), it seemed the right time to create a permanent, safe place for the texts, something he had wanted since 1992. Installing the library in our shrine room also fulfills Rinpoche's desire to have the "container" (environment) for the Dudjom Ku-dung stupas be as beautiful and inspiring as possible.
The texts complete our shrine's support of enlightened body (Guru Rinpoche statue), speech (texts), and mind (Ku-dung stupas).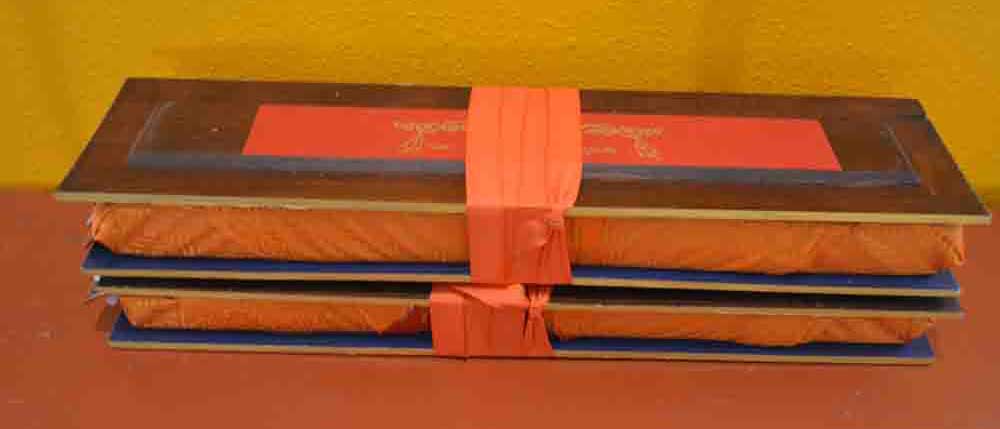 Due to the necessary shrine renovations for the new Dudjom Ku-dung stupas, installing the shelves at the same time was the best thing to do. As this opportunity arose to fulfill Lama Tharchin Rinpoche's aspirations, we took a leap of faith and moved forward with a deposit donated by a generous sangha member. Lama Sonam Rinpoche designed the shelves, along with our stupa builder John Reynolds, and they were built and installed by John and his skilled carpentry crew.
This spring, during his travels to Nepal, Lama Sonam Rinpoche was able to locate traditional cedar text covers that were hand-carved in Saranat, India. He designed front title plates that were printed on maroon hand made paper with gold lettering and commissioned three-color silk text wraps (dong dars) and buckles hand-fabricated in the likeness of a stupa (cho chack - "dharma buckles" that symbolize mindfulness).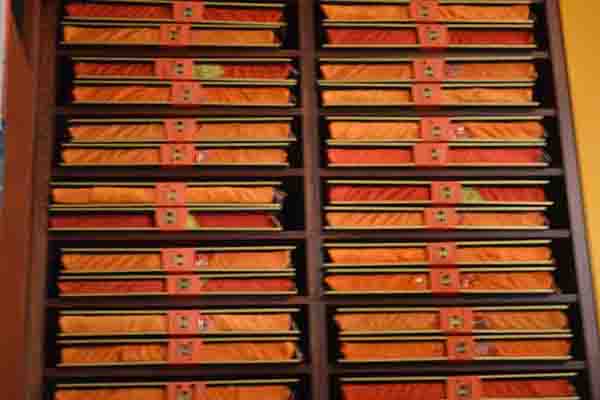 Back at Pema Osel Ling we had the text covers stained by a sangha craftsman to match the stupas. He then affixed the paper title plate with varnish; both long, painstaking processes. Several sangha members sewed the text wraps, attached fabric printed with volume numbers and sewed the "dharma buckles" on to cloth belts. The texts were then individually wrapped and placed in the shelves.
Our lamas' vision and efforts, along with the sangha's hard work, have produced a wonderful library with text covers made in the ancient tradition (just like the ones seen on the Dudjom Tersar refuge tree) and shelves that display the texts beautifully. As a last step, we will commission glass fronts for the shelves to protect the texts from environmental hazards.
You can be part of the creation and care of a Buddhist sacred library at Pema Osel Ling, which will be available for study and a support of Buddha's enlightened speech for generations to come.
Thank you and may all beings benefit!
(photography: courtesy of Yvon Chausseblanche)