Sponsor Vajrakilaya Gutor Losar Ritual Activities
and Prayer Flags


Lama Tharchin Rinpoche leading the Black Hat Ritual procession
"If you are able to come to [a] retreat that is wonderful, but the other way you can establish tendrel (auspicious connection) is to make a material offering with faith, devotion, and a pure mind… [to connect with] the blessings of the puja and retreat." -Lama Tharchin Rinpoche
Vajrakilaya puja and Shenpa Dharma Protector practice require many tormas (ritual sculptures) and sacred substances. The large zorchen torma, which is thrown into the bonfire on Gutor Day to dispel negativity of the past year, is made from a mold sculpted in 2011 by Lama Tharchin Rinpoche. It is incredibly detailed and will be decorated with Lama Sonam Rinpoche's special phurba mandala (phur drom) and other ritual objects.

Connect to these sublime activities through making offerings on behalf of yourself and your loved ones. We will read the names of all sponsors and their dedications each day during tsok. ♦♦ AFTER MAKING YOUR DONATION, TO INCLUDE NAMES AND DEDICATIONS FOR TSOK, BUTTERLAMPS, TORMA SPONSORSHIP, ETC., PLEASE EMAIL offerings@vajrayana.org.
IF YOU WOULD LIKE TO SPONSOR A FULL DAY OF RETREAT, including ritual substances, lama care (airfare, food and tea), shrine room lights, please see below, or email office@vajrayana.org.
Sponsor Losar Prayer Flags For Yourself and Loved Ones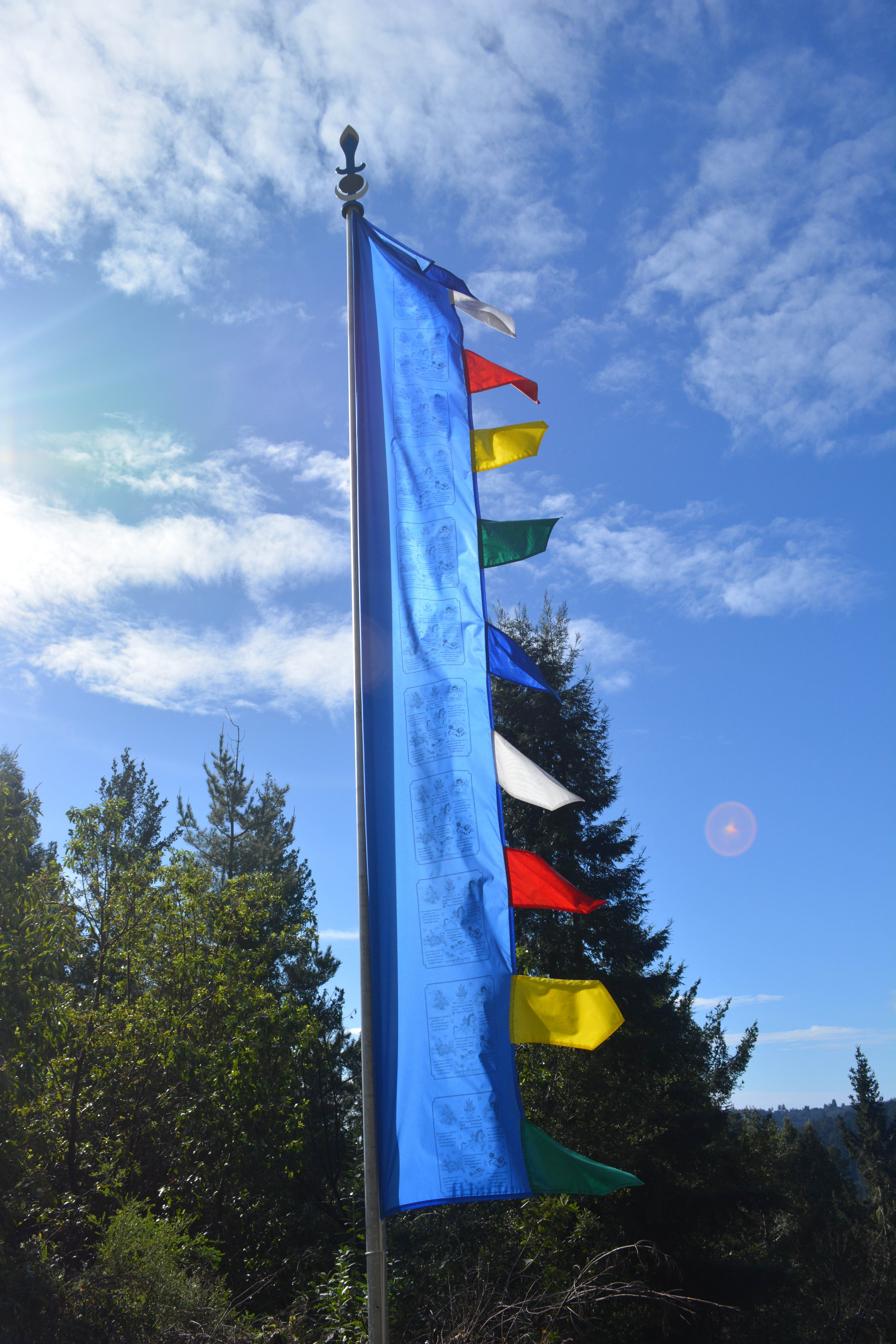 Prayer flags are for the enhancement of health, longevity, wealth, and all desirable qualities. The prayer flags at Pema Osel Ling contain great blessings as the design and prayers on each flag come directly from His Holiness Dudjom Rinpoche, as modified by Lama Tharchin Rinpoche. (Flags are handmade in the USA.) According to tradition, on Losar Day (February 27, 2017), we will replace all prayer flags with new ones in a Riwo Sang Chod (smoke offering) puja. Read more from Lama Tharchin Rinpoche and Lama Sonam Rinpoche about Prayer Flags.
It is traditional to put names on prayer flags to help clear obstacles for the coming year. We will put yours and/or a loved ones' name(s) on our prayer flags to generate blessings and clear obstacles to health, wealth and longevity for the upcoming year. After we receive your offering and names, we will send you an emailed dedication card that you can forward to the people for whom you have sponsored flags. Funds raised above the costs of the prayer flags will go to supporting all Losar activities and the Shrine.
"The raising of prayer flags removes obstacles to the path of enlightenment. It is particularly good for those experiencing illness and obstacles. It will increase 'windhorse' life energy and bring good fortune and success in the New Year!" -Lama Tharchin Rinpoche
**If using PayPal please enter dedication names in Merchant Instructions. If you have too many names for space allowed or are paying by check, send names to offerings@vajrayana.org. We must receive your names no later than February 25th, Noon PST. Thank you!!
Return to the Main Losar Retreat Event Page