Vajrakilaya Gutor and Losar Day Retreat 2016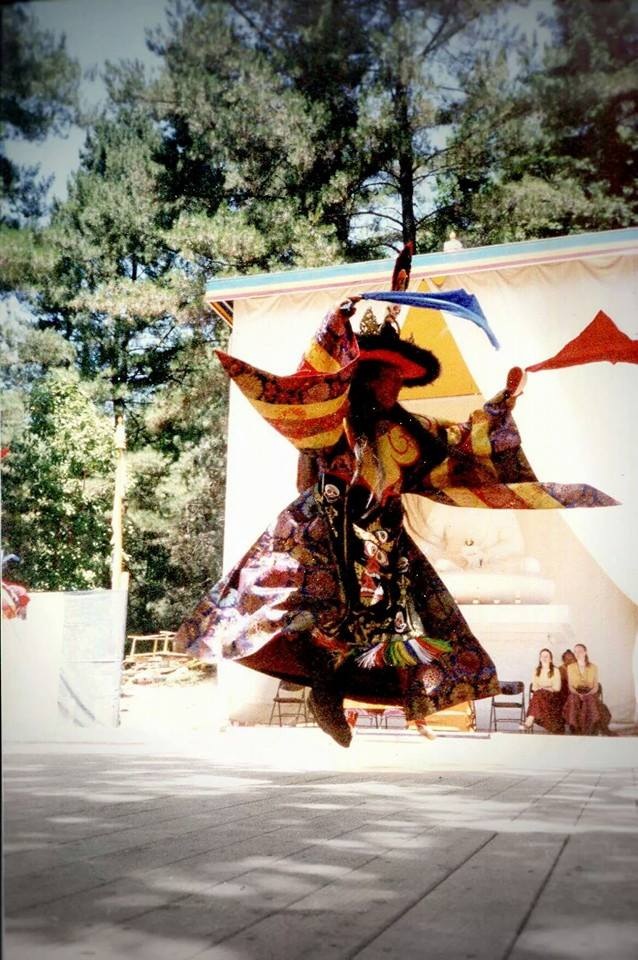 Historic photo of Lama Tharchin Rinpoche performing the Black Hat dance
REGISTRATION

Pricing
Full Schedule
Text List
Sponsoring Prayer Flags and Ritual Activity
Concise Vajrakilaya Practice
Vajrakilaya Aspiration Prayer
Vajrakilaya-Losar related Supplies and Items from Dharma Treasures store

Carpool Forum



The wrathful Vajrakilaya Gutor practice is a powerful purification ritual traditionally done in the final days of the outgoing Tibetan year to cleanse and pacify all accumulated negativities, defilements and obstacles in order that we start the New Year afresh.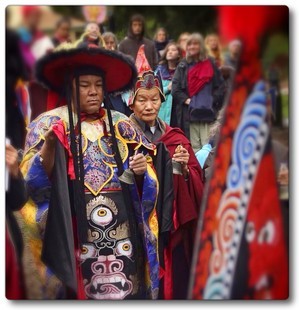 We are deeply honored that Tulku Jigme Wangdrak Rinpoche, a fourth generation familial descendant of HH Dudjom Lingpa, pictured left, will return to lead our 27th annual Vajrakilaya retreat.

We will do His Holiness Dudjom Rinpoche's Putri Rekphung - The Razor that Destroys at a Touch Vajrakilaya practice.

The practice culminates in the Gutor ritual, this year on February 7th, where the wrathful torma is cast out accompanied by the sacred Black Hat dance, paving the way for a New Year where "all positive circumstances increase like the waxing moon. Relative circumstances such as longevity, merit, glories, joy and family lineage are increased. And on the path, meditation qualities, experience, wisdom and fruition of practice are accomplished." Lama Tharchin Rinpoche


Please join Tulku Jigme Wangdrak Rinpoche, Lama Sonam Rinpoche and other lamas and sangha for as much as your schedule allows.
More about the Retreat Practice Schedule


The retreat will start on February 3 at 3 PM.

Over February 4-6 we will start at 9 AM each day with a 3 PM afternoon session.

Gutor itself will start at the earlier time of 8:30 AM with a 2 PM afternoon session on February 7. In the morning we will go through the sadhana up to tsok. The afternoon will start with the averting ritual, where the sacred black hat dance is performed, and the ritual torma cast and consumed in a wisdom bonfire.

On "Thanksgiving Day (Tang-rak)" on February 8, we will perform the Vajrakilaya sadhana at 9 AM, followed by Losar preparations in the afternoon. On this day, traditionally, house cleaning is undertaken to usher in good energy for the New Year.

Losar day, the Year of the Fire Monkey, will start at 8:30 AM. Offerings will be made to the Guru Rinpoche statue and the resident lamas. We will do Lake Born Vajra tsok with Orgyen Khandro Norlha long life and wealth practice will follow, up to lunch time. After lunch, a Riwo Sangchod smoke offering puja will be peformed to accompany the raising of our New year's Prayer Flags.

Out of repect for Kyabje Chatral Rinpoche's Parinirvana, we will not be emphasizing the more celebratory aspects of the new year.
Location: Pema Osel Ling
2013 Eureka Canyon Road
Watsonville , CA 95076
Date:
Feb. 10, 2016, 3 p.m. - Feb. 11, 2016, 4 p.m.