http://www.vajrayana.org/personal-retreat-at-pema-osel-ling/
Personal Retreat at Pema Osel Ling

Consider a personal retreat at Pema Osel Ling. Wisdom teachers through the ages have recommended that we go to the mountains whenever possible to do reteat. Pema Osel Ling has been blessed by the presence of so many sublime lamas, that there is a special energy that supports practice here.


Lama Tharchin Rinpoche said "Pema Osel Ling is one of the best places to do practice. We have incredible holy supporting objects like the body aspect of Guru Rinpoche's statue, made by our Lord of Refuge Dungse Thinley Norbu Rinpoche, and the mind aspect or our stupas."


And, as Lama Sonam Rinpoche has told us, "Now is the time to practice. Don't think you will have more time later. As the great masters told us, we should practice with the same urgency we would feel if our hair were on fire – we wouldn't wait until a better time to put it out! Remember impermanence."


Personal Retreat Options throughout the year
Kunsang Choling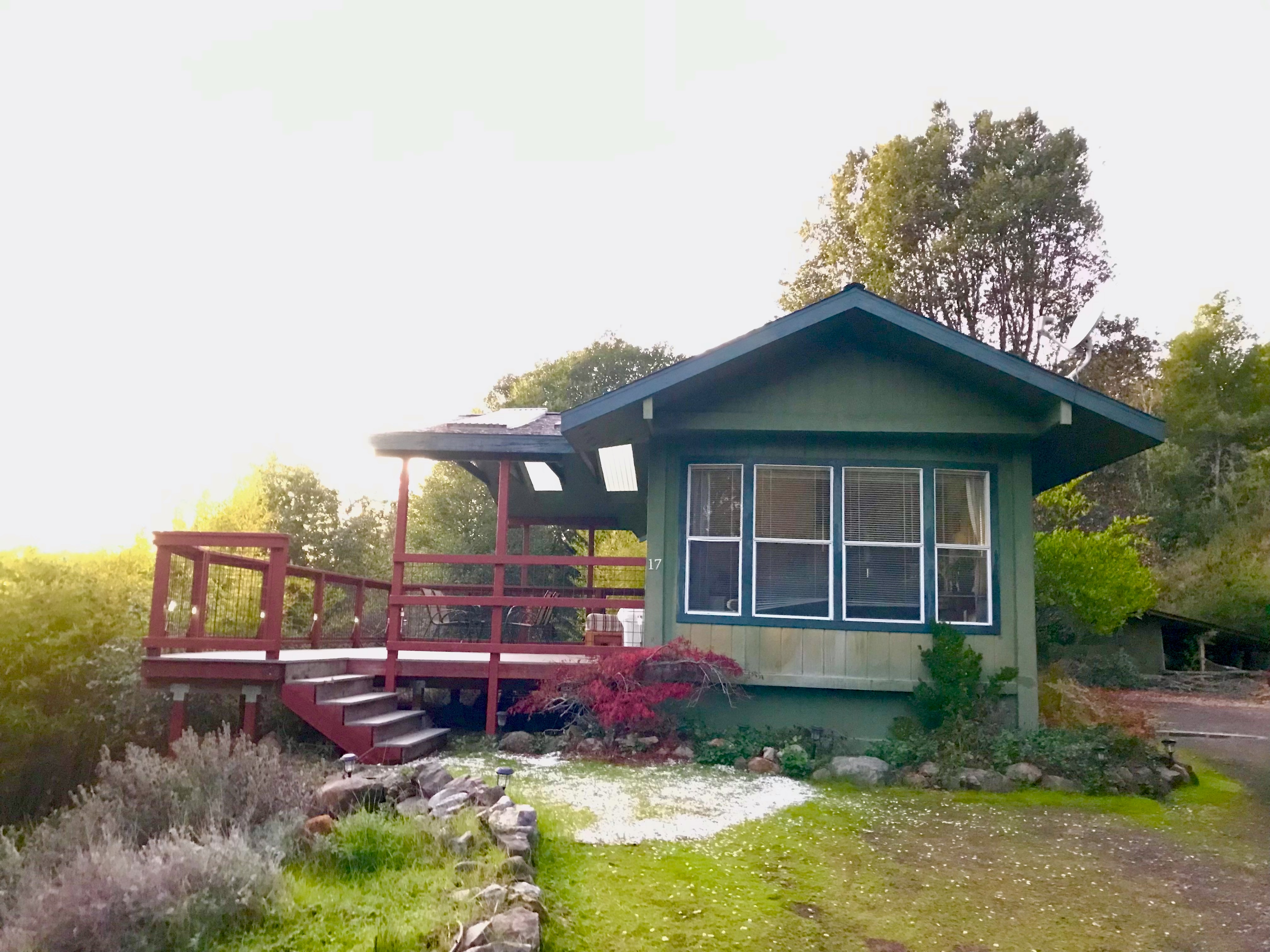 This cabin is also known as Dungse Thinley Norbu Rinpoche's trailer, and has hosted many of our lama visitors over the years. It is available to Vajrayana Foundation Members only.
This cabin was originally a double-wide manufactured home that is now a comfortable one-bedroom house. The bedroom has a queen bed, full closet and bedside table. There is a full bathroom, with shower and bathtub, and a living-dining area with a table that seats 4, couch and coffee table. The kitchen is fully equipped. There is a full deck with patio furniture and beautiful view of the mountain and forest.

There is WiFi available at this cabin. You may book a stay for a minimum of 2 nights and up to 1 month. Please contact the office if you are looking to book a longer retreat.
Drubdra (Three-Year Retreat) Cabins
We will have cabins available in our Three-Year Retreat facility from October 2023 through January 2024 for people wanting to do personal retreat in a very special place. A limited number of individual cabins are furnished, and retreatants will have access to the private shrine room, and share a communal kitchen and bathrooms. Rentals are available from 1 week to 3 months. For more details, please contact the office.
Other Retreat Spaces
Depending on our wedding and group rental schedule, we may also have some of these accommodations available for Personal Retreats.
Orchard House
Located in a private meadow, the spacious Orchard House features four bedrooms, three bathrooms, and a fully equipped kitchen. The living room has vaulted ceilings as well as a gas-burning fireplace. The great deck wraps around both the living and dining area and has a beautiful mountain view. Each large bedroom has a balcony and sliding glass doors. The downstairs master bedroom offers a queen-size bed, private entry, and a private bathroom. The three upstairs bedrooms have one or two queen beds each, and share a common bathroom. The Orchard House has WiFi and minimal cell phone reception.
Sangha House
Our Sangha House is a large, ranch style, four-bedroom lodge with a full kitchen and two group-size bathrooms, one with handicap access. The living/meeting room has an adjoined full-size terrace overlooking Monterey Bay. This house has 4 bedrooms with a total of 18 beds. Three of the bedrooms have queen beds, allowing couples to share a room for retreat. The Sangha House has adequate cell phone reception (Verizon) but no WiFi.
Yurt and Cabins
On a quiet hillside there is a Yurt and seven heated cabins with high ceilings and large sunny windows. Heated bathhouses for both men and women are nearby. Most cabins contain a queen bed, a set of bunk beds, and a small clothing cabinet.
If you are interested in finding out more, please fill out this Personal Retreat Questionnaire and send it to office@vajrayana.org. We will respond with availability and pricing.
Use the button below to submit a deposit or pay your retreat balance after receiving permission for your retreat. Please click here to review our Payment and Cancellation Policy.