http://www.vajrayana.org/treasure-vases/
Treasure Vases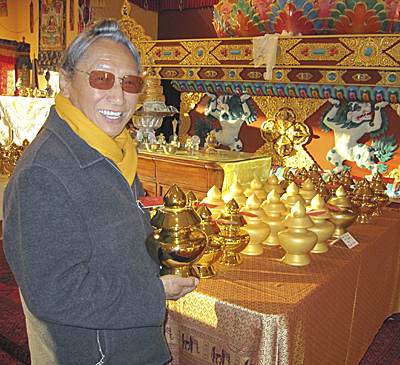 A Special Message from Lama Tharchin Rinpoche
"These are the same sublime vases we have offered in the past, however now they have a most significant and precious addition: Chu-ter, healing water from the spring in Eastern Bhutan which began to flow when blessed by Kyabjé Dungsé Thinley Norbu Rinpoche's practice. This area on the mountainside near Rangjyung, Garab Dorje Rinpoche's gompa, had a water problem for many years. When Kyabjé Dungse Thinley Norbu Rinpoché did puja there, the water began to flow again. Now this is a place where people come from far away and stay to camp and partake of the healing water. From showering in and drinking this water, they become healed of many illnesses. It is this holy water which we have brought back from Bhutan and infused into the medicinal clay used for rolling the balls which fill each Treasure Vase. These vases and this practice are a direct link to His Holiness Dudjom Rinpoche's wisdom mind, a true wish-fulfilling jewel."
Lama Tharchin Rinpoché has designed Vajrayana Foundation's beautiful Treasure Vases, based on specifications given by Guru Padmasambhava, who brought Buddhism to Tibet. The blessings, pacification and improved environment created by the vases, extend outward from the vase's location. By the sacred contents and rituals employed during its creation, the treasure vase has the power to magnetize wealth and abundance, improve health and healing, pacify anger and conflict, and increase wisdom and compassion.
Traditionally, Tibetan Treasure Vases are given on auspicious occasions such as births, weddings, housewarmings or new ventures. They are kept in one's home or business, or buried at a chosen site. The vases are the perfect feng shui remedy to restore vitality and harmony to elements (earth, air, fire, water and space) that are imbalanced, disturbed or depleted by environmental pollutants. Within the areas surrounding the vase, direct experiences of well-being will occur.
Available Vases

Pure White Treasure Vase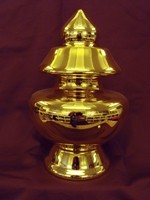 Golden Treasure Vase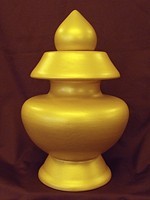 Earth Healing Treasure Vase
The Pure White Treasure Vase has a radiant white gloss finish. The pure white finish of these vases highlights the beauty of the simple yet elegant design. It is a beautiful gift for holidays, weddings and other special occasions. It can also be displayed in your home or on a shrine.
Our Golden Treasure Vase has a golden metallic glazed finish.
Our Earth Healing Treasure Vase has a matte painted gold color finish. It is intended for site burial, whether at a new house construction, or in a body of water or on a mountain. Instructions are available for how to conduct this burial ceremony. It is also fine to keep it indoors, in a high, clean place.
All three vases contain the same sacred substances, and give the same blessing power and qualities.
Contents of Vases
The vases contain many rare, sacred substances prescribed by Padmasambhava. The conch shell supports the life essence of the god realm of joy. Turquoise supports the human realm of intelligence. Crystal supports the life essence of the naga realm of wealth. The cowrie shell supports the life essence of the dakinis and iron pyrite supports the life essence of the local protectors of the environment and the practitioners within it. Also inside the vases are pictures of the wealth deity Khandro Norlha, wealth mantras and mandalas—diagrams expressing wealth potential, which increase merit, wealth and abundance with the intention to benefit all beings.
The vases are filled to the brim with medicine balls to create abundance. One of the most important ingredients in the medicine ball is the "mother pills." Padmasambhava concealed many precious substances to be discovered in our time and used in making treasure vases. These and other substances are collected by sublime and great lamas and combined into mother pills. The main substance in mother pills is yang-dzay rilbu (essential wealth substance pills.) Many treasure revealers discovered these hidden substances.
His Holiness Dudjom Rinpoché collected the substances from the ten-gam (treasure collections) of Mipham Rinpoché, Mindroling Terchen, and Khyentse Rinpoché, and many other precious substances collected by sublime beings. From these substances Dudjom Rinpoché made the original mother pills that Lama Tharchin Rinpoché received and expanded upon. Rinpoché added the twenty-five precious substances: the five precious jewels, the five precious essences, five precious medicines, five precious grains and five precious scents; plus tsa-sum (three roots), tsi-zhi (four flower essences), nyingpo-nga (five essences), and zangpo-druk (six excellences.) He also added a very rich collection of jewels and minerals: opals, diamonds, emeralds, sapphires, rubies, turquoise, coral, pearl, dzi stone, chong stone, gold, silver, copper, and so on. Additional substances are soils, stone and water from holy sites and famous practice places, as well as dudtsi and ten-dü rilbu (relics from countless Buddhas.) Medicine balls are made from mother pills, with all these precious ingredients, by mixing with high quality porcelain clay and rolling it into small spheres. When the balls are dried, the vases are filled with them and then sealed.
For more information or to order, please visit Treasure of Abundance.

Support the Magical Display of the Arts ongoing development of enlightened art.
Liberation Upon Seeing