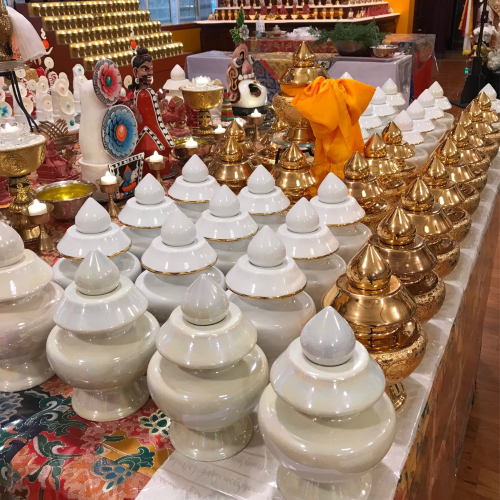 Based in a rich and long lineage of traditional Tibetan Buddhism, Treasure Vases are sacred objects empowered to promote abundance, prosperity, and healing.
Lama Tharchin Rinpoche designed Vajrayana Foundation's beautiful Treasure Vases, based on specifications given by Guru Padmasambhava, who brought Buddhism to Tibet. The blessings, pacification and improved environment created by the vases, extend outward from the vase's location. By the sacred contents and rituals employed during its creation, the Treasure Vase has the power to magnetize wealth and abundance, improve health and healing, pacify anger and conflict, and increase wisdom and compassion.
These Treasure Vases make auspicious gifts to celebrate loved ones; for weddings, anniversaries, housewarmings or new jobs. They also protect from unwanted circumstances in your home or business.
All Treasure of Abundance vases are consecrated in a traditional ceremony led by Dudjom Lineage teachers at the Pema Osel Ling Retreat Center.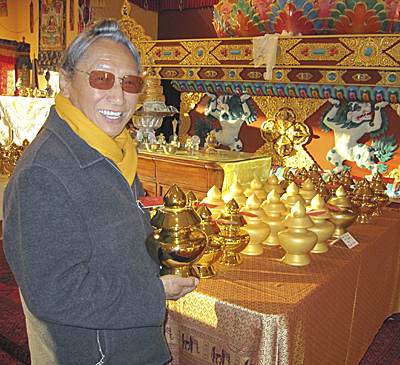 TREASURE OF ABUNDANCE
Treasure of Abundance began with the late master Lama Tharchin Rinpoche in the early 90's after his arrival in the United States from a Tibetan refugee camp in Orissa, India. After receiving instructions from his teacher Dudjom Rinpoche, and years of making treasure vases and passing the teachings and lineage to his students, he began creating vases at his retreat center of Pema Osel Ling in California.
With his deep knowledge and commitment to the ritual of creating the vases, as well as his artistic abilities, Rinpoche was able to begin producing vases never previously available.
Over the years, Treasure of Abundance continues to produce these vases in accord with the instructions left by Lama Tharchin Rinpoche and the teachers before him to offer vases of an unbroken lineage and exquisite craftsmanship. The project merges ancient traditions with modern availability and refined designs. Through healing the earth, promoting wealth and prosperity, and protecting against unwanted circumstances, Treasure of Abundance is committed to benefiting all sentient beings in accordance with the Buddhist tradition.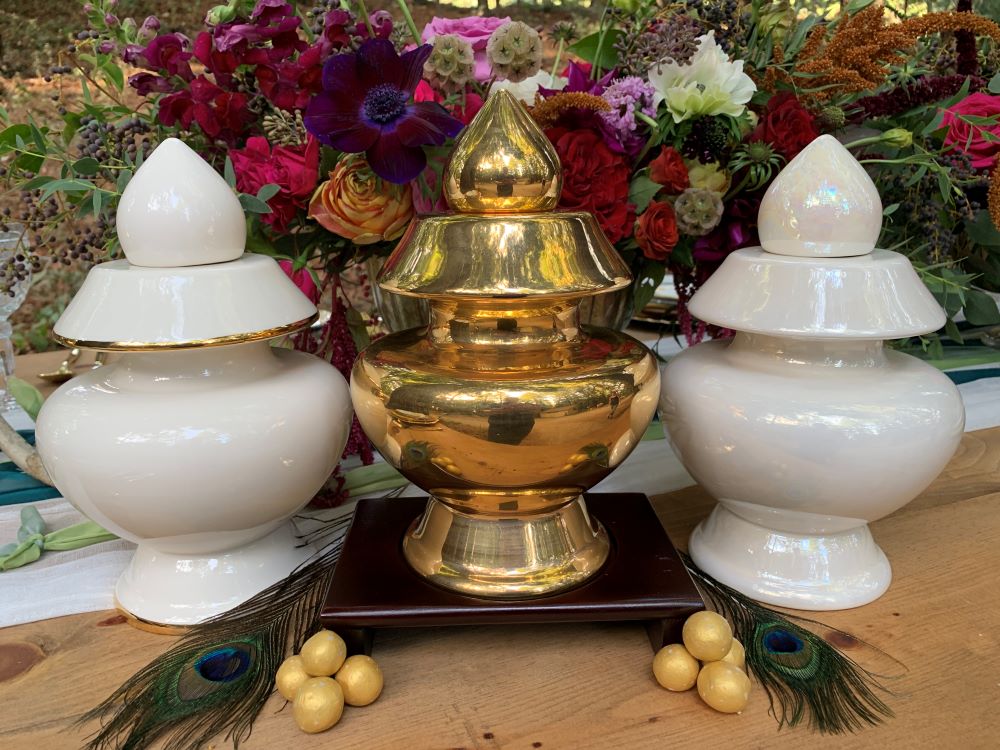 KHANDRO NORLA
The deity practice of Orgyen Khandro Norla, also known as Guru Dzambhala, emerged from Dudjom Rinpoche's terma cycle of Tsokyi Thuk Thik, or Lake-Born Vajra.
Khandro Norla is the inner aspect of Tsokyi Thuk Thik and is a wealth and prosperity practice which holds instructions for the creation, filling, and consecration of Treasure Vases.
The practice of Khandro Norla and Treasure Vases is intended to capture, restore, and increase the energies associated with wealth and prosperity including all aspects of our life that hold value, not just the material. Dudjom Rinpoche himself buried many Treasure Vases in Tibet to restore balance to the energetic points of the earth where masters had previously built temples, and in the west to balance and create positive circumstances.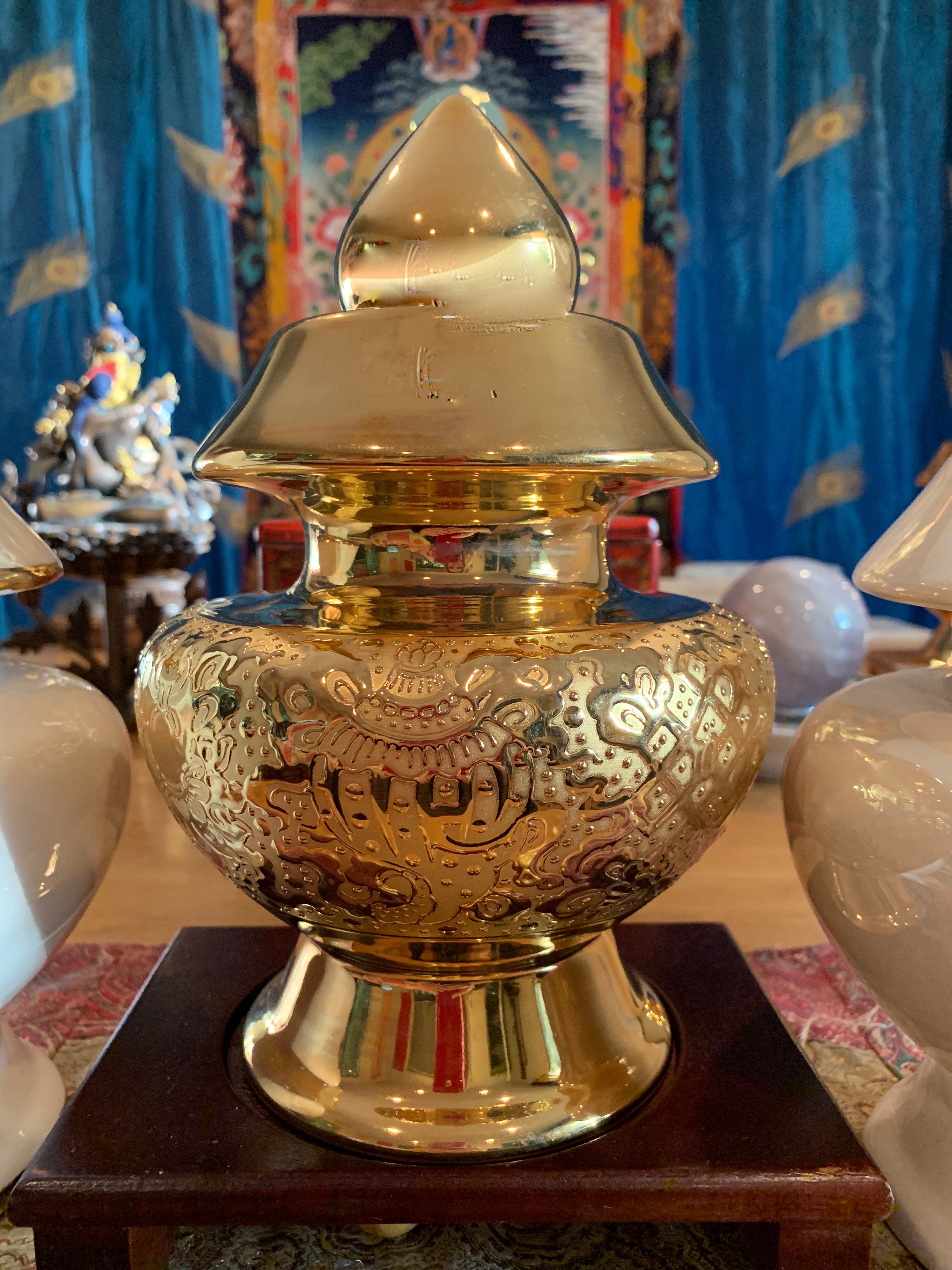 PEMA OSEL LING
As a product centered around Tibetan traditions, to this day the vases produced by Treasure of Abundance are blessed and consecrated by the lineage masters at Pema Osel Ling, all students of Dudjom Rinpoche. We are able to offer a curated range of vases designed by Lama Tharchin Rinpoche, each uniquely beautiful, interesting, and within tradition. Under the careful guidance of Lama Sonam Rinpoche, the current head of the Vajrayana Foundation, we have expanded the project in recent years.
The blessed and sacred substances that fill each vase have been carefully collected and gifted to our teachers over decades of work. Many notable and skilled teachers of many lineages have made offerings of substances to connect with the mission and out of respect for the unbroken tradition we carry on. Each contribution to the vases is combined to create our Mother Essence, which is combined with terma specified ingredients and rolled into Mother Pills which fill the vase. Every Treasure of Abundance vase holds incalculable blessings from the Dudjom Lineage and beyond.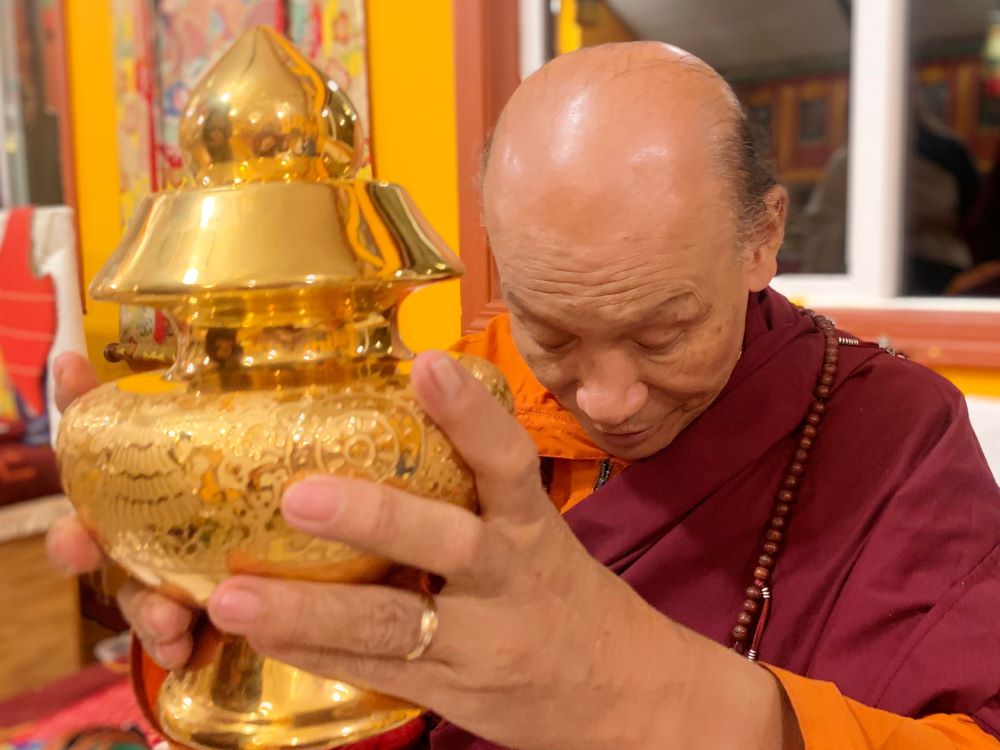 Treasure of Abundance was a project created as an extension of the Vajrayana Foundation to fulfill the vision of Lama Tharchin Rinpoche to share these powerful vases across the world. All proceeds from Treasure of Abundance and the purchase of a Treasure Vase directly support the Vajrayana Foundation and the important activities they undertake to preserve the Dudjom Lineage and make it available to all with interest and faith.
For more information or to order, please visit Treasure of Abundance.

Support the Magical Display of the Arts ongoing development of enlightened art.
Liberation Upon Seeing