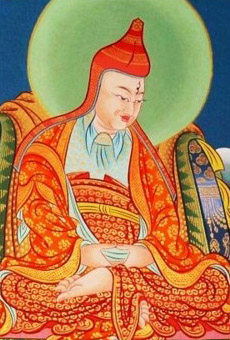 Bero Jeydren Publications was founded by Lama Tharchin Rinpoche to compile, translate and make available important texts of the Nyingma tradition with particular emphasis on the New Treasures of Dudjom.
Text Updates for Daily Practice & Retreats
Lhadrub Thigle Gyachen
Download the tablet version here for Longchenpa's De-Cho practice, February 13, 2017.
Daily Practice Book Update
The print version of the Daily Practice Book is temporarily unavailable as it's being updated with swift rebirth and longevity prayers, aspiration prayers, and additional dharmapala practices. If you purchased the 2015 print version, you will receive a free digital update and a discount will be arranged for the print version. We will have more information about how to get those updates soon. The 2015 digital download is still available, and people who purchase the download will receive the updated 2017 version as soon as we have it. You can find the updated inserts for prayers and practices below.
Hayagriva
The beautiful new "Quintessentially Wrathful Black Hayagriva" book from Lama Sonam Rinpoche and Lotus Lamp Publishing (2016) will serve as the basis of our updated daily and extensive additional prayers and practices. We have a very limited number of loaners in the shrine and the text is currently unavailable in the bookstore. We will also try to have individual handouts available. We apologize - we know the handouts are unwieldy! Thanks so much for your understanding and patience.
Opening Prayers
Opening Prayers 2016 - includes from Praise to Lama Vajrasattva through concise supplications, providing a complete text of what's needed up to the sadhana's lineage prayer. You can download this for tablet and there are a limited number of copies available in the shrine room.
Soldeb Supplication Prayers
See below with Free Downloads
Swift Rebirth & Longevity Prayers
See below with Free Downloads
Updated Dharma Protectors for the Daily Practice Book 2017:
Purchase download of the Dharma Protectors for Daily Practice for tablet or download the new practices for free:
The Roar of Hung (Drakshul Wangpo)
Fulfillment Offering to the Protectors
Invocation to the General Assembly of Protectors
Additional Prayers:
Inexpressible Ultimate Confession (letter format)
Chok Chu Du Zhi (letter format)
Maha Guru (letter format)
Prayer of the Sealed Vajra Knot (letter format)
The Mahasandhi Prayer of Manjushri (letter format)
Tengyay Monlam (letter format)
New Daily Practice Book Available - Summer 2015
BJP is happy to announce the much-awaited publication of a new, fully updated and expanded Daily Practice Book, compiled according to the wishes of Lama Tharchin Rinpoche and Lama Sonam Rinpoche. The Daily Practice Book is available for Summer Retreat at Dharma Treasures and for download. For those who previously purchased our tablet version of the new Daily Practice Book online, we have emailed you a copy of this final text.
Under Lama Sonam Rinpoche's guidance, BJP is working to accomplish Lama Tharchin Rinpoche's vision for creating more comprehensive, easy-to-use texts containing the practice notes (zindriy) from Kyabje Dudjom Rinpoche and others. The new Daily Practice Book, designed to meet our comprehensive Dudjom Tersar daily practice needs, includes Ngöndro, the main Three Roots daily practices, Tsok Offering and Intermission Prayers, Prayers Before Teachings, Dedication, daily Dharma Protectors, Offering Prayers, and more. To complement the new Daily Practice Book, we are also currently working on an updated and expanded version of the Vajrayana Foundation Additional Prayers for extensive individual and group practice. While we continue to work on a variety of publications, one of our primary goals is to publish new versions of our main sadhana practice texts, as we did with the Chariot of Great Merit, according to Lama Tharchin Rinpoche and Lama Sonam Rinpoche's plan.
SEE ABOVE FOR UPDATE INFORMATION
Support
About donating to sponsor texts, Lama Tharchin Rinpoche said,
"… Making these texts involves so many people and so much time. So I am requesting your help and support. For anyone who is able to add some material donation, I will dedicate that material accumulation merit into immaterial vast dharmata like the sky. That connection will lead us to attain enlightenment in order to benefit all sentient beings. These texts from the Vajrayana Foundation will remain and continue to benefit so many beings who do the practices."
Your donations are deeply appreciated and help insure that we can continue the vital work of publishing texts key to our practice lineage. To make a tax-deductible donation, you can pay with Paypal at the Donate page, using the RED Donate button. Make sure to write Bero Jeydren in the project name box. Checks can be made payable to Vajrayana Foundation with "Bero Jeydren" in the memo line. Mail to 2013 Eureka Canyon Road, Watsonville, CA 95076 - Attention Suzanne.
Thank you so much for your generous support,
Pema Dechen, Bero Jeydren Publications
Free Text Downloads:
Soldeb Supplication Prayers:
Chadral Rinpoche Soldeb (letter format)
Chadral Rinpoche Soldeb (half page)
The Healing Medicine of Faith: A Supplication to Lama Tharchin Rinpoche
Tulku Jigme Wangdrak Rinpoche offered our sangha this beautiful and profound supplication to Lama Tharchin Rinpoche's wisdom mind. By reciting and meditating upon this prayer, we can merge our own mind with Rinpoche's wisdom mind and receive his blessings. "The Healing Medicine of Faith," translated by Sarah Plazas, is included in the new Daily Practice Book and is also available for download in tablet or letter format.
Lama Tharchin Rinpoche's Supplication Prayer
Based on the long life prayer written by Dungse Thinley Norbu Rinpoche. This prayer is included in the new Daily Practice Book and is also available for download.
Concise Supplications to Lama Tharchin Rinpoche
By Lama Pema Dorje Rinpoche available for download.
By Anam Thubten Rinpoche from Jnanasukha for download.
More:
Concise Soldeb to Lama Tharchin Rinpoche by Lama Pema Dorje
Visualization: Brief explanations by Lama Tharchin Rinpoche
Swift Rebirth & Longevity Prayers:
Downloads for Purchase:
Please note the following purchases are not tax-deductible but rather are considered digital goods purchases. If you'd like to make a tax-deductible donation, please see the note above.
When you purchase a text here and a new version of the text is published in the next year, we will send a link for you to download the updated text free of charge.
Cultivating the Two Accumulations
Lama Tharchin Rinpoche's teaching on cultivating the two accumulations of merit and wisdom to the new Three Year Retreatants in 2005. $3 download TABLET format.
Click here to see all of our available digital texts.