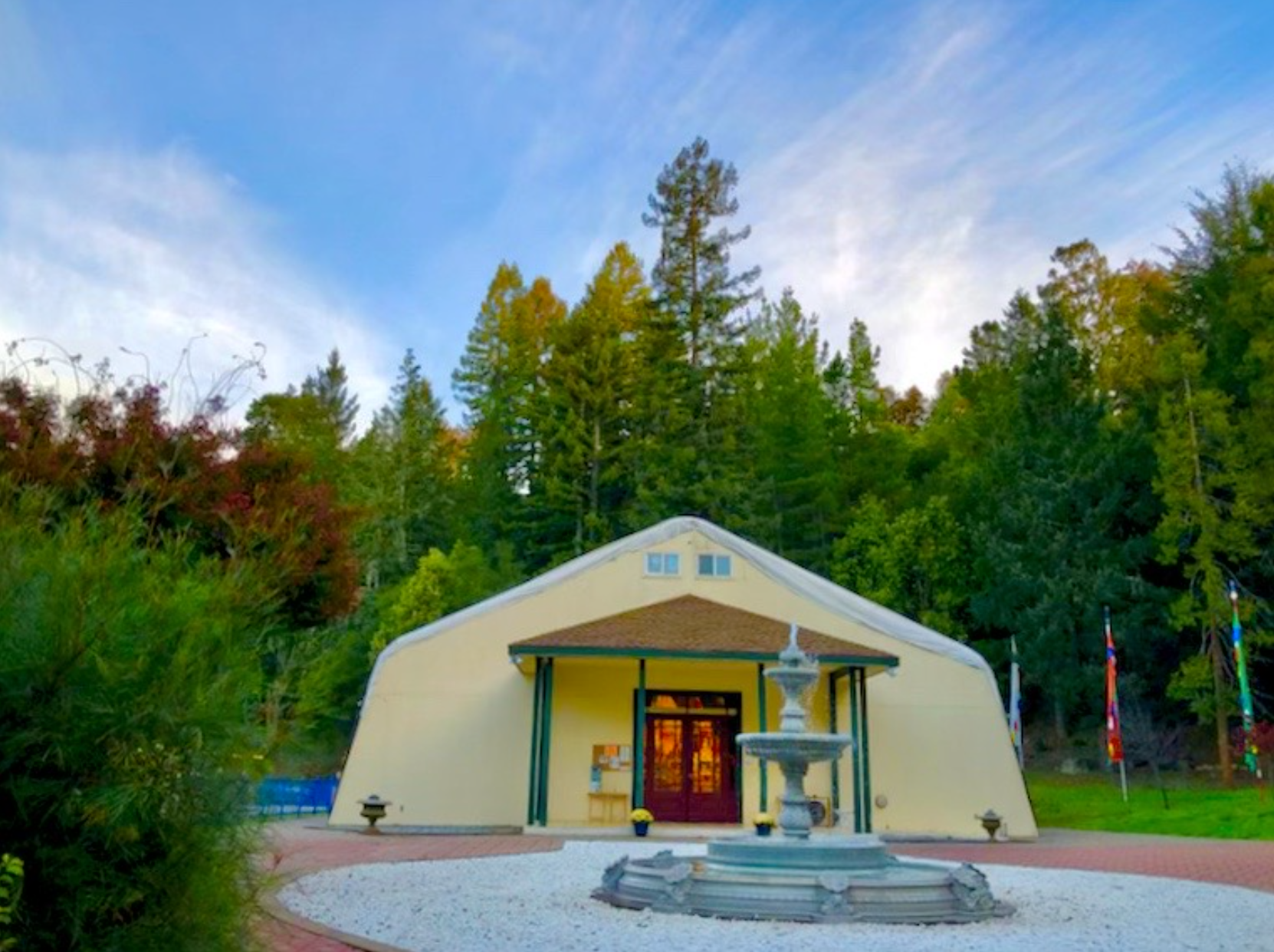 Entrance to the Shrine and Offering Fountain
Thank You!
Your vision and generosity keep Dharma activity going!
Thank You for choosing to support and protect this blessed land -
now and for the future - with your tax-deductible gift.
You may make a donation in a loved one's name and we will send you a link to a beautiful dedication e-card. Details below.*
Our Year-End Fundraising goal this year is $135,500. We appreciate your generous support:
Necessary projects include:
Professional tree work - $55,000
Extensive Brush removal - $30,000
Rocks for the Offering Pond to prevent liner damage - $7,000
Fire Retardant Painting of Sangha House $12,000
Replace decks and stairs with fire resistant materials - $31,000
Friend $25 –
This amount will buy fire retardant additive for 5 gallons of paint.
Supporter $54 –
This amount will buy 10 gallons of gas for power tools to remove brush.
Auspicious Pillar $108 –
This amount will buy a pallet of pavers for the Shrine stairway.
Daka/Dakini $250 –
This amount will pay a grounds person to remove brush around buildings for one day.
Founder $500 –
This amount will purchase bulding materials to replace 50 square feet of decking.
Patron $1,000 –
This amount will buy a load of river stones to line the offering pond.
Year-End Benefactor $2,000 –
This amount will pay a professional tree company to remove one 20-foot pine or madrone.
Donate any amount
Recurring donation - Split your donation over 3 months
Auspicious Pillar Recurring Pledge: $36 per month for 3 months ($108 total)
Daka/Dakini Recurring Pledge: $83 per month for 3 months ($249 total)
Founder Recurring Pledge: $167 per month for 3 months ($501 total)
Patron Recurring Pledge: $333 per month for 3 months ($999 total)
Consider becoming a Dharma Advocate with a donation of
$5,000 or more - because there are vital projects to be accomplished!
E-mail offerings@vajrayana.org and we will contact you.
* If you are making an offering for loved ones, enter names in the PayPal form
or email offerings@vajrayana.org. We will send you a link to the e-card and
will read their names at tsok on Jan. 12, the first Guru Rinpoche tsok of 2022.
You may also send a check to Vajrayana Foundation, 2013 Eureka Canyon Road, Watsonville, CA 95076
Click here for a legacy gift and other ways to support Pema Osel Ling
THANK YOU FROM THE BOTTOM OF OUR HEARTS!
DEDICATION OF MERIT
By this accumulation of merit, may I obtain all-seeing omniscience
and may all faults be defeated.
The whirling, turbulent waves of birth, aging, sickness
and death—from this ocean of samsara, may I liberate beings.
(Translated by Dungsé Thinley Norbu Rinpoché)