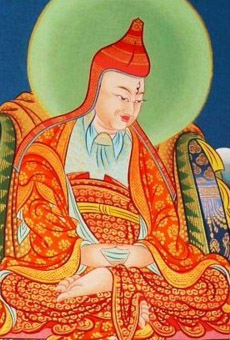 Bero Jeydren Publications was founded by Lama Tharchin Rinpoche to compile, translate and make available important texts of the Nyingma tradition with a particular emphasis on the New Treasures of Dudjom.
Support
About donating to sponsor texts, Lama Tharchin Rinpoche said:
"… Making these texts involves so many people and so much time. So I am requesting your help and support. For anyone who is able to add some material donation, I will dedicate that material accumulation merit into immaterial vast dharmata like the sky. That connection will lead us to attain enlightenment in order to benefit all sentient beings. These texts from the Vajrayana Foundation will remain and continue to benefit so many beings who do the practices."
Your donations are deeply appreciated and help ensure that we can continue the vital work of publishing texts key to our practice lineage.
Checks can be made payable to Vajrayana Foundation with "Bero Jeydren" in the memo line. Mail to 2013 Eureka Canyon Road, Watsonville, CA 95076 - Attention Bookkeeping.
Thank you so much for your generous support,
Pema Dechen, Bero Jeydren Publications
Vajra Armor Healing Mantra Teaching by Lama Tharchin Rinpoche
Lama Tharchin Rinpoche teaches on the Vajra Armor (Dorje Gotrab) mantra, the healing mantra of Guru Pema Shawari form of Guru Rinpoche. Ngawang Zangpo translates. Open Secret Bookstore, San Rafael, California, June 12, 2006.

Restricted: This recording is being made available by Heart Teachings by Lama Tharchin Rinpoche and is restricted to those who have had a Vajra Armor Mantra oral transmission (rlung) either from Lama Tharchin Rinpoche or Lama Sonam Rinpoche, or another lineage-holding lama.
Purchase the MP3 here. Your donation for this teaching benefits Bero Jeydren Publications, a translation and text production activity of the Vajrayana Foundation. Any amount you can offer above the price is of great help to Vajrayana Foundation. Thank you for your generous support.
Sampa Lhundrupma Prayer
Available here through Dharma Treasures or download here for tablet. Also in The Prayer to Seven Chapters to Padmakara (Le'u Dunma) available here.
Free Text Downloads:
Updated Dharma Protectors for the Daily Practice Book 2017:
Purchase a download of the Dharma Protectors for Daily Practice for tablet or download the new practices for free:
The Roar of Hung (Drakshul Wangpo)
Fulfillment Offering to the Protectors
Invocation to the General Assembly of Protectors
Lion-Faced Dakini with Hand-Clapping (Seng Dong T'hal Deb)
Soldeb Supplication Prayers:
Wang Du Prayer "The Great Cloud of Blessings" by Mipham Rinpoche
Dedication of Merit (So Nam Di Yiy)
Brighter than Crystal: The Indispensable Adornment of View, Meditation, & Action by Rigdzin Jigme Lingpa (Tibetan, Phonetics, English) and Tibetan with English
Swift Rebirth & Longevity Prayers: