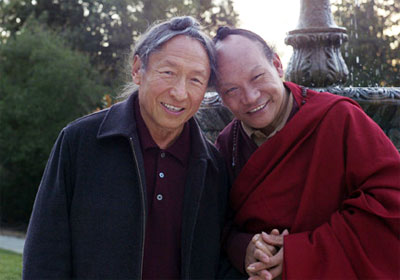 "Pema Osel Ling … belongs to each and every one of you! Just as the sun belongs to everyone who has the time to sit in it, so Pema Osel Ling belongs to anyone who has the time to practice and who has the desire to receive teachings.

This is a very important Dharma center because it holds the life of the Dharma --- outwardly (with the ritual aspect), inwardly (with the teachings) and secretly (with the practice of those who wish to reach enlightenment, including the three-year retreat). Therefore, I want each of you to demonstrate your involvement with this Dharma center by taking responsibility. That's my wish. If I live, I'm satisfied, if I'm dead, I'm satisfied. You don't have to do anything but take care of the center. That's number one."

- Lama Tharchin Rinpoche
Requested by his root teacher HH Dudjom Rinpoche, Lama Tharchin Rinpoche came to the United States to teach the Dharma and to establish Pema Osel Ling as a place where the Dudjom Tersar lineage could be practiced and flourish for countless generations to come.
In order that Pema Osel Ling continues as a place where limitless people can connect with the Dharma and follow it to its perfection, Rinpoche has requested all of us, his students and friends, to assume responsibility for our Dharma center by pledging financial support, which would ensure the center's growing stability and continuity --- hence the membership program.
Through VF membership you help to make Lama Tharchin Rinpoche's vision of spreading the Dharma in the West a reality. Your financial contributions help support our teachers and help meet the costs of maintaining our Dharma center, thus supporting the teachings and ensuring their availability.
As a member you will receive a 10% discount off the price of retreats and at the Dharma Treasures gift shop, as well as occasional Thank You gifts through out the year. You will also receive a beautiful welcome gift.
If Pema Osel Ling is valuable to you as a place where you can find refuge, spiritual inspiration and renewal, please show your support by joining our membership program.
Read more about membership...
Please fill out the following to become a member:
Fields in bold are required. You will receive more payment information on the confirmation page.