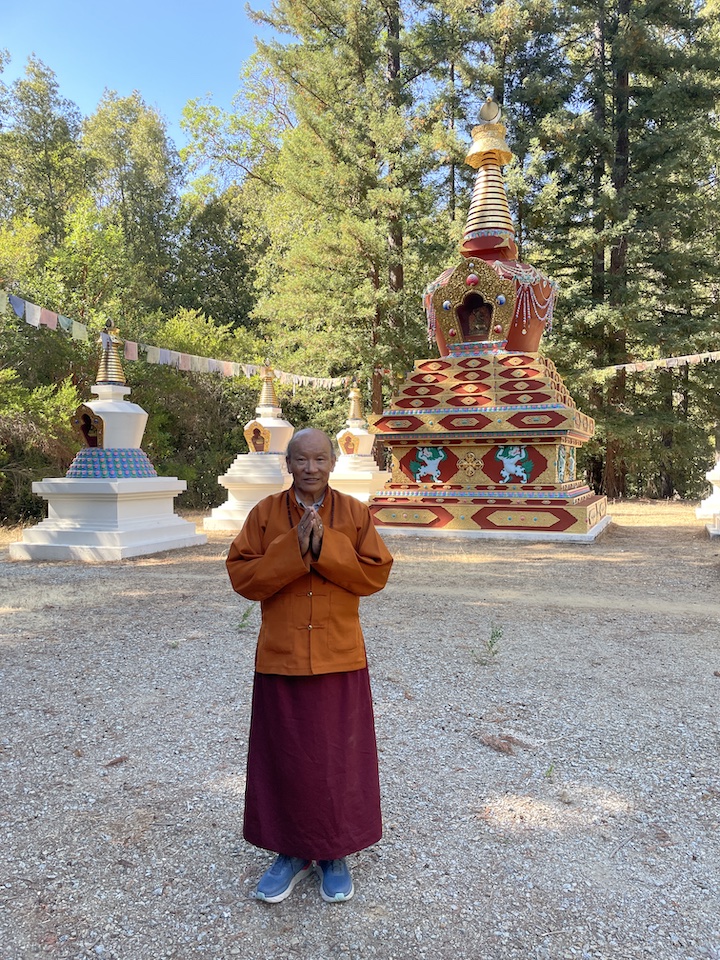 Lama Sonam Tsering Rinpoche at the Stupa
Thank You !
With your generous tax-deductible gift, and our shared vision,
we will complete the Red Dorje Drolo Stupa Mandala in 2023!
You may make a donation in a loved one's name and we will send you a link to a beautiful dedication e-card. Details below.*
Our Year-End Fundraising goal to complete the Stupa Mandala and portions of the access road is $155,000.
Of the budgeted $265,000 needed to complete the Stupa Mandala, we still need to raise $155,000. Any funds raised over this amount will go towards landscaping and further road improvements.
Infrastructure ($70,000)
Auspicious Fence ($64,000)
Interior Mandala Courtyard ($51,000)
Exterior Korwa Path ($15,000)
Upper Access Road ($65,000)
Friend $25
Supporter $54
Auspicious Pillar $108
Daka/Dakini $250
Founder $500
Patron $1,000
Year-End Benefactor $2,000
Donate any amount
Recurring donation - Split your donation over 3 months
Auspicious Pillar Recurring Pledge: $36 per month for 3 months ($108 total)
Daka/Dakini Recurring Pledge: $83 per month for 3 months ($249 total)
Founder Recurring Pledge: $167 per month for 3 months ($501 total)
Patron Recurring Pledge: $333 per month for 3 months ($999 total)
Consider becoming a Stupa Major Donor with a donation of
$5,000 or more
E-mail office@vajrayana.org and we will contact you.
* If you are making an offering for loved ones, enter names in the PayPal form
or email offerings@vajrayana.org. We will send you a link to the e-card and
will read their names at tsok on January 1, the first Guru Rinpoche puja and tsok of 2023.
You may also send a check in USD made out to Vajrayana Foundation to
Vajrayana Foundation, 2013 Eureka Canyon Road, Watsonville, California 95076 USA