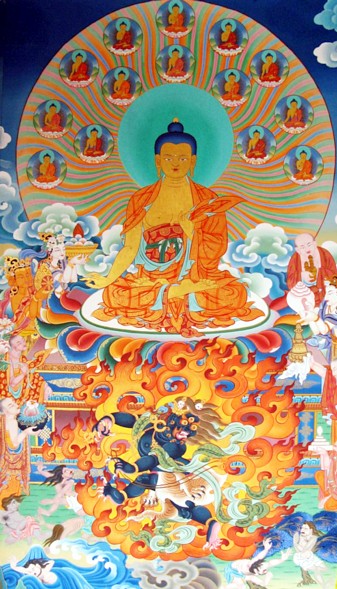 March 5, 2015 is Chotrul Duchen, the full moon day of the first Tibetan month, which is celebrated as the last of 15 consecutive days when Buddha Shakyamuni performed miracles in order to increase merit and devotion of future disciples.
Rigdzin Jigme Lingpa said,
Through the magical power of your miracles in Shravasti,

You rendered speechless the tirthika teachers who,

With all their analysis and research, drunk on the wine of indulgence, had become oppressive in the extreme.

In the final contest they were humbled, their prestige all drained away,
The Day of Miracles is one of the four major Buddhist festival days, during whicheffects of positive and negative actions are multiplied 100 million times. It is traditionally honored with practice, feasting and the lighting of lights.
At Pema Osel Ling we will be celebrating with a Buddha Puja and Shower of Blessings tsok offering. Practice begins tonight, March 5, at 7 PM and everyone is welcome to attend. We also invite those would would like to make an auspicious connection with the puja to offer butterlamps or tsok.