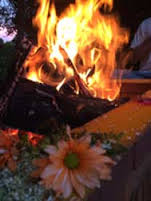 Since 1992, the Vajrayana Foundation drubdras have continued unbroken and more than 50 people have passed through
Drubnyi Döjö Gatsal
(The Joyful Grove that Provides Both Kinds of Accomplishment), our three-year retreat center.
Read more about the center here.
Our current drubdra will end in December, 2015. According to tradition, each drubdra finishes with a series of fire pujas (jinseks) and this year, with Lama Pema Dorje Rinpoche's blessings and the guidance of Lama Sonam Rinpoche, 10 full days of jinseks - from Nov. 25 - Dec. 4 - will be performed in our drubdra.
All 10 of the drubdra fire pujas will be Pacifying (Zhiway), in order to purify all the errors in visualization, mantra recitation and samaya during the retreat. In addition, Lama Tharchin Rinpoche said the Pacifying Jinsek "heals imbalances of physical elements that result in sickness; removes negative energy for us personally and the world in general; pacifies karmic defilements of countless lifetimes and liberates us from unwanted circumstances."
We invite you to make a connection to this profound activity and receive the same benefits through sponsorship. You may make offerings in your name and the names of loved ones (both living and passed - including pets) and/or for special projects and events. All offerings over the cost of the fire pujas will go to very much needed drubdra repairs.
Your names will be read during the fire puja(s) you sponsor and you and your loved ones will be remembered in all prayers.
"It seems that the combination of our motivation together has a kind of pure energy and positive effect that manifests incredible and miraculous things...Although only a few have the opportunity to practice with this kind of depth and intensity...their practice and our support are intermixed like a drop of water in a vast ocean... we are all connected within the same mandala..." Lama Tharchin Rinpoche