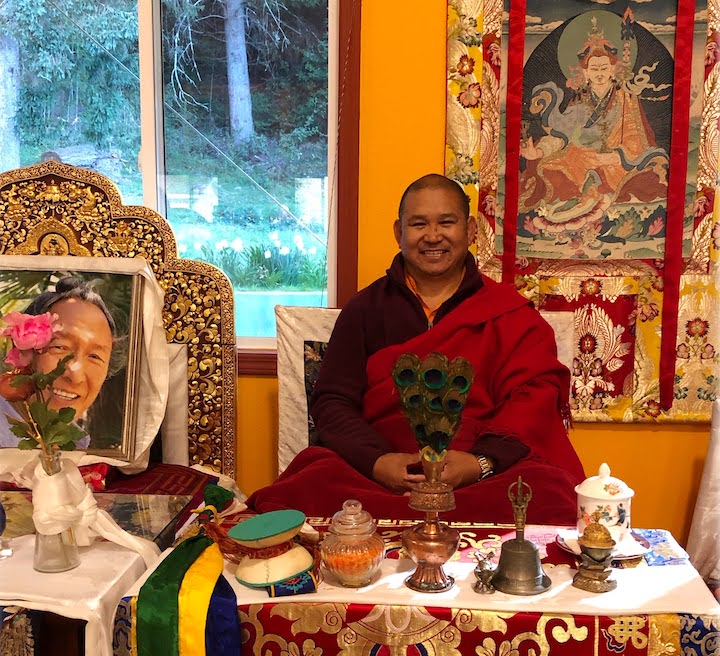 Tulku Thadral Rinpoche (photo by Sonam Famarin)
January 1 - 21, 2023
January 1 - Open to the Public "Introduction to Trekchod and Rushen"
January 2 - 21 - Restricted to Registered Participants (In-Person Only / No Streaming)
Trekchod-Rushen Retreat Registration
In January, we will hold a rare 3-week, in-person only, Trekchod-Rushen Retreat. Due to personal circumstances, Tulku Thadral Rinpoche will give the teachings on outer, inner and secret Trekchod Rushen instead of Lama Sonam Ripnoche.
Lama Sonam Rinpoche says this about Tulku Thadral Rinpoche: "Kyabje Dudjom Rinpoche recognized Tulku Thadral Rinpoche and said many times how he is really different from other tulkus and will be of great benefit to sentient beings. All of the lamas see him as a precious jewel. He is really a great expert scholar. Not just that, but wherever he goes he immediately does retreat, even if just a few weeks. He is also very humble and gets along with everyone. He is a bodhisattva."
Khor-de Rushen is the special preliminary practice for Dzogchen, the Great Perfection. Traditionally the only gateway for entering the profound path of Dzogchen, Rushen fully prepares us for practicing the path of complete liberation. At the heart of its instructions is the key to differentiating between samsara and nirvana. Like extracting pure butter from milk, we can learn to extract the essence of nirvana from the gross phenomena of samsara. By completing the practice of Rushen, the seed that is the cause for rebirth is destroyed and the doors to the Six Realms of Beings are sealed forever.
These instructions, together with the requisite meditation practice, provide an unparalleled opportunity for the student to gain stability in their meditation under the guidance of a genuine and experienced meditation master.
"To receive this kind of teaching requires many positive circumstances and conditions coming together and therefore it is very precious." [Lama Sonam Tsering Rinpoche]
Watch Tulku Thadral Rinpoche's teaching,
"What is Rushen and How Does it Help You Practice Trekchod and Dzogchen?"
here:
https://youtu.be/56DbHg-NKN8
"Introduction to Trekchod and Rushen" Teaching Open to the Public - January 1, 10 am - 12:30 pm with afternoon 2:30 - 5:30 pm Dorje Drolo Puja and Tsok Offering
Register Here for January 1, 2023 Teaching and Puja Only. (Included with Trekchod-Rushen registration.)

Trekchod-Rushen Retreat Requirements:
To attend this retreat, you must:
1. Have completed Ngondro in any tradition.
2. Attend the retreat in its entirety. Part-time attendance is not permitted.
3. Attend all sessions in person, either as a residential guest or commuter. There will be no live-streaming or recordings made available.
The commitment for taking these teachings will be to practice according to one's capacity and to recite the Vajra Guru Mantra a minimum of 15,000 times.
Trekchod-Rushen Retreat Registration and Payment:
1. Registration will be limited by the number of our accommodations, which will be assigned first-come, first-served.
2. Participants may share a room by mutual agreement (contact office@vajrayana.org for pricing).
3. A $250 non-refundable deposit is due with registration to reserve your choice of housing.
4. The balance of payment, or an approved Payment Plan (please contact the office to make arrangements), is due by November 1, 2022. The full pricing options are detailed on the registration form.
Cancellation Policy:
If we do not have at least 15 participants registered with payment by November 1st, the retreat will be cancelled and all deposits and payments returned. Registered participants will be notified November 2nd so they can confirm travel plans.
Cancellation before November 1st – full refund minus $250 cancellation fee.
Cancellation November 1st or later – no refund or retreat credit.
Retreat Text:
A special practice text will be prepared for this retreat and will be available at a later date.
Retreat Schedule:
The retreat will start at 10 am on Sunday, January 1st and end at 1 pm on Saturday, Januray 21, 2023. The first retreat meal will be dinner on Saturday, December 31st, and the last meal will be lunch on Saturday, January 21st. Introductory teachings on January 1st will be open to all.
See the Daily Schedule here.
Covid Restrictions:
We currently do not require onsite guests to be vaccinated against Covid. However, you must provide evidence of a negative Covid test within 24 hours prior to arriving at Pema Osel Ling. We may also require onsite testing during the retreat. Everyone is required to wear a well-fitting mask in the Shrine Room, Dining Hall and other shared indoor areas. This policy is subject to change at the discretion of Vajrayana Foundation staff. If you develop symptoms or test positive while at Pema Osel Ling, you will be asked to return home or find offsite arrangements immediately. If you require medical attention, it will be your responsibility to arrange transportation.
Offerings:
Everyone is welcome to make offerings for tsok, butter lamps, retreat sponsorships and general support for Pema Osel Ling here. In addition, you make offerings to Lama Sonam Rinpoche and to the translator here.
Housing Options:
Orchard House
Located in a private meadow, the spacious Orchard House features four bedrooms, three bathrooms, and a fully equipped kitchen. The living room has vaulted ceilings as well as a gas-burning fireplace. The great deck wraps around both the living and dining area and has a beautiful mountain view. Each large bedroom has a balcony and sliding glass doors. The downstairs master bedroom offers a queen-size bed, private entry, and a private bathroom. The three upstairs bedrooms have one or two queen beds each, and share a common bathroom. The Orchard House has WiFi and minimal cell phone reception.
Sangha House
Our Sangha House is a large, ranch style, four-bedroom lodge with a full kitchen and two group-size bathrooms, one with handicap access. The living/meeting room has an adjoined full-size terrace overlooking Monterey Bay. This house has 4 bedrooms with a total of 18 beds. Three of the bedrooms have queen beds, allowing couples to share a room for retreat. The Sangha House has adequate cell phone reception (Verizon) but no WiFi.
Yurt and Cabins
On a quiet hillside there is a Yurt and seven heated cabins with high ceilings and large sunny windows. Heated bathhouses for both men and women are nearby. Most cabins contain a queen bed, a set of bunk beds, and a small clothing cabinet.
Your RV
We will provide a parking space for your RV, but do not guarantee electric or any other hookups. A facilities fee is included for shower use. We do not permit tent camping, as the weather in January is very unpredictable, and often is cold and rainy.