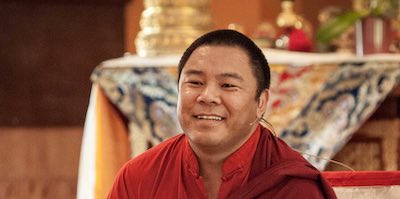 Tulku Jigme Wangdrak Rinpoche
Chakung Jigme Wangdrak Rinpoche was born in the Golok region of Eastern Tibet as the fourth descendant of the great Tibetan master Dudjom Lingpa, one of the foremost spiritual masters of 19th Century Tibet. At the age of 15, he was recognized as the reincarnation of Rigzin Longsel Nyingpo by Choktrul Tamdrin Wangyel. He attended Larung Gar Monastery and studied Buddhist teachings in great depth. These included Sutra and Tantra as well as Dzogchen pith instructions and empowerments with Khenchen Jigme Phuntsok, who formally requested Rinpoche to teach and preserve the lineage of Dudjom Lingpa. In addition to his training at Larung Gar, Rinpoche received teachings from a well-known female teacher and descendant of Dudjom Lingpa, Dakini Kunzang Wangmo, who also encouraged him to teach and preserve the Dudjom lineage.
While in Tibet, Rinpoche was responsible for the publication of many revelatory writings from Dudjom Lingpa and produced an original woodblock edition of the Nyingma Gyudbum, The 100,000 Tantras of the Nyingma Lineage, published at the Derge Printing House.
Since 2011, Rinpoche has lived primarily in the San Francisco Bay Area. In 2014 Rinpoche founded The Abhaya Fellowship, a Buddhist community dedicated to keeping the Nyingma lineage of the Dudjom Tersar alive, which functions as an umbrella for activities like meditations retreats and teachings, and as a center for satellite sanghas or practice communities.
Return to Teachers Page