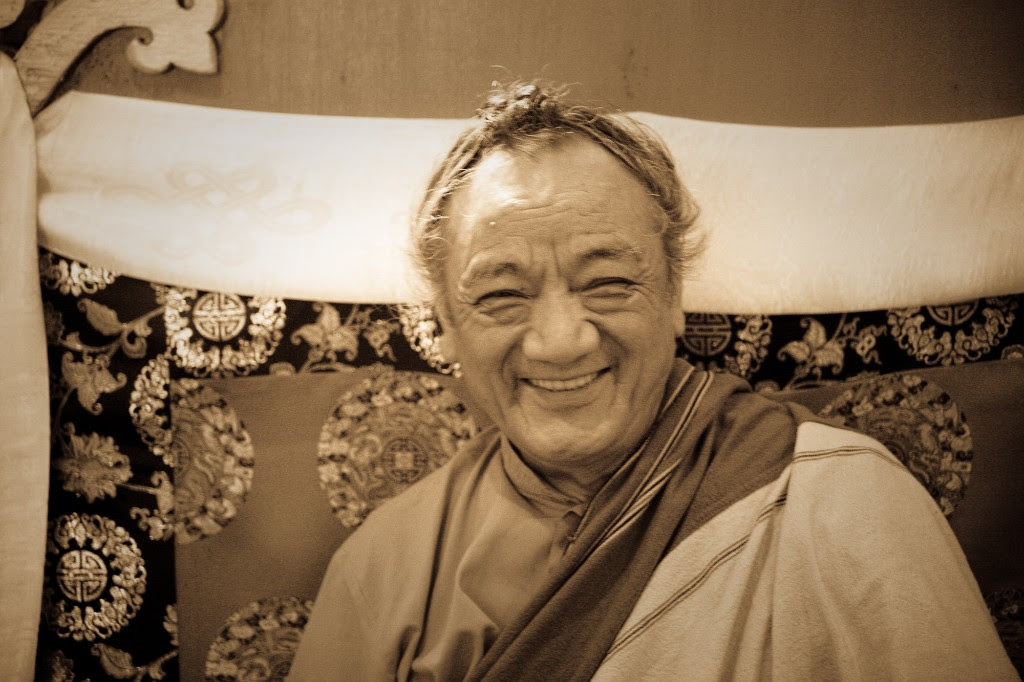 Posted by Kunzang Dechen Chodron, July 5, 2018
We are sad to inform you that our utterly pure and exquisitely humble teacher, Lama Pema Dorje Rinpoche, passed into parinirvana at 4:02 am on July 5th at his home in Oakland, California, surrounded by his family. Rinpoche gave instructions on the care of his kudung (holy remains), to be done immediately following his passing, to Khandro Kunsang Chozom and she followed them precisely.

Rinpoche was recognized as a tulku of the great Indian adept Padampa Sangye by the revered Buddhist master, Reki Chatral, at a young age. He was part of a generation of young lamas who received teachings from many of the great masters of the mid 20th century. His complete biography is on his website. Despite many years living in the West, he remained unchanged by our materialism and western culture but still displayed the kindness to live among us and guide us.

From the moment he met his root guru Dudjom Jigral Yeshe Dorje, Rinpoche's faith and devotion toward him was unbounded. While he had many other sublime gurus, each of whom is profiled here, it was Kyabje Dudjom Rinpoche who ornamented the crown of his head.

Rinpoche was an exemplar of the Nyingma Yogi tradition of Tibet who perfected each of the inner tantras through diligent in-depth practice. Based on his own realization, he became a guide for contemporary yogis in retreat in such holy places as Chagdud Gompa Rigdzin Ling and the Vajrayana Foundation three-year retreat center. He was a rare lama who could explain the esoteric texts of the Vajrayana tradition to practitioners because he had truly accomplished them himself, both in retreat and his extensive daily practice, instead of speaking from dry scholastic learning.

Rinpoche viewed the relationship between male and female yogins as sacred. His relationship with his Khandro, Kunsang Chozom, was a model of a mutually respectful Vajrayana relationship for many. They were married for over fifty years. In addition to Khandro Kunsang, he is survived by his daughter Pema Chozom and his sons, Orgyen Dodul Dorje, Gyurme Dorje, and Tulku Rinzin Dorje.

Lama Tharchin Rinpoche said of Lama Pema Dorje Rinpoche, "His mind is always even." This quality of his mind, always resting in spacious evenness, was evident to advanced Buddhist practitioners, who worked hard to find Rinpoche and become his disciples, and receive instruction in the practice of tsa lung and Dzogchen. This was not always easy because Rinpoche intentionally kept a low profile, and did his best to live the plan-less lifestyle of the Dzogchen yogi according to the advice of Kunkhyen Longchenpa. Many of the western Nyingma lamas in the U.S. and South America were his students for these disciplines, having practiced in small groups with Rinpoche in hidden locations.

Rinpoche is regarded as a teacher who worked with his students with gentleness, openness, humor, and warmth. However, he was not afraid to firmly correct practitioners when they strayed from the path of genuine Dharma, using his vajra words. Through these twin methods, he was known as a lama who could help students with wild minds tame their conduct, or buoy those with gentler dispositions through support and encouragement.

The general instructions that are given at the time of the passing of a great lama are to purify one's samaya with him or her by reciting the 100 syllable mantra of Vajrasattva and to merge one's mind with the lama's mind through the practice of guru yoga in general and the vajra guru mantra specifically.
Announcements about pujas and other information for those with faith in Rinpoche will follow tomorrow. Please be aware that this, and Rinpoche's website, are the only official means of communication from Rinpoche's family.
Lama Pema Dorje Rinpoche Parinirvana Observances
As requested by Lama Pema Dorje Rinpoche before his parinirvana, Tulku Jigme Tromge Rinpoche is the guiding lama for the next forty-nine days of practices related to Rinpoche's parinirvana.

Practice at Home
Tulku Jigme Rinpoche recommends the following personal practice for practitioners connected to Lama Pema Dorje Rinpoche: Recite the Guru Yoga practice of your choice. Insert the Inexpressible Absolute Confession and recite it in English. Really look in your heart for these faults and confess. Recite the hundred-syllable mantra of Vajrasattva and repeat as time allows. Finish your Guru Yoga practice text recitation.