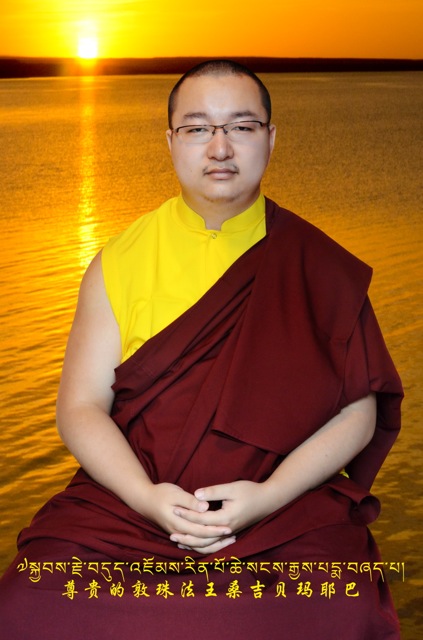 Dudjom Yangsi Rinpoche sends this Losar greeting to our sangha. To see a PDF of the complete letter in English click here. To see the letter in Tibetan click here.
I want to extend an auspicious "tashi delek" greeting for the Tibetan Wood Sheep New Year to all the lamas and students, my vajra brothers and sisters with unwavering faith and pure samaya, followers of the stainless lineage of the Great Secret Vajrayana. I hope and pray that all of your goals in this new year are accomplished in accordance with the dharma. I rejoice from the bottom of my heart in your virtuous worldly conduct, in your positive habits, and that you always hold your kind lama at the crown of your head. I rejoice in your genuine sincerity and your service, both accomplished and ongoing, to the Buddhist teachings in general and to the teachings of our Tersar tradition in particular.
Based on the external changing of the seasons, internally you will become inspired, gain new enthusiasm, and begin to work even harder for your own and others' benefit. Now is the time to make this human rebirth, with its eases and obtainments, meaningful and not waste your life. Please strive to tame your mind through study, reflection, and meditation on the meaning of Kyabje Dungse Rinpoche's essential wisdom pith instructions on the profound path; work to realize the state in which benefit for yourself and others is effortlessly accomplished through the practice of the two stages of the profound path.
From the one who bears the name of Dudjom Tulku, Sangye Pema Zhepa.
13 Feb. 2015