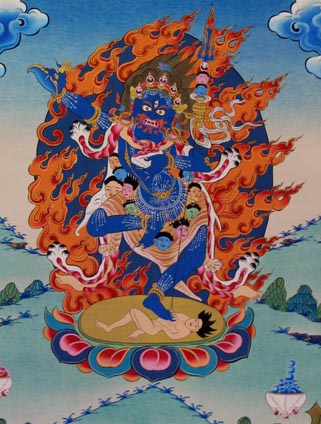 REGISTER

SCHEDULE and PRICING

TEXT LIST (coming )

RIDESHARE

OFFERINGS
Gyepa Dorje Rinpoche, a pre-eminent teacher of the Dudjom Tersar tradition, is from an unbroken lineage of extraordinary Troma Nagmo practitioners going back to Trakthung Dudjom Lingpa. We are honoured that Rinpoche will join us this summer and bestow the empowerment of Troma Nagmo, the Black Wrathful Dakini, one of Dudjom Lingpa's most profound termas (treasures).


Gyepa Rinpoche was born on July 29, 1960 in Muchu, Nepal, to his father, the second Degyal Rinpoche, and mother Kyama Tshering. Rinpoche's grandfather, Golok Serta Rinpoche, was a highly revered Dzogchen practitioner and a heart disciple of the first Degyal Rinpoche, who was one of Dudjom Lingpa's thirteen main disciples who achieved rainbow body. The first Degyal Rinpoche established the Namkha Khyung Dzong Monastery and its community of practitioners in the Mount Kailash region in Western Tibet, made Tröma Nagmo central to their practice.
Gyepa Rinpoche was raised in a religious environment under special care and guidance from his father, acquiring a thorough grounding in reading, writing, ritual and Dharma from a young age. After Rinpoche's father passed away in 1985, Gyepa Rinpoche founded Namkha Khyung Dzong Monastery in Humla; Namkha Khyung Dzong Nunnery in Orissa, India; and Namkha Khyung Dzong Dharma Society in Taipei, Taiwan, continuing to spread, to this day, his father's Dharma activities.