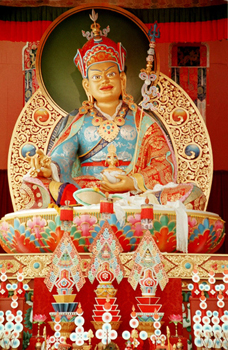 REGISTER

SCHEDULE and PRICING (coming )

TEXT LIST (coming )

RIDESHARE

OFFERINGS
Drupchen (Great Accomplishment) is an extensive practice retreat. In the Collection of Seven Treasures: the Mind Accomplishment of the Lama we perform, as a group, this elaborate Guru Rinpoche guru yoga practice drawing upon the full array of the skillful means of Vajrayana practice, such as the creation of the mandala, group sadhana practice, tsok offerings, 24-hour mantra recitation, ritual music, mudra, fire pujas, and sacred dance. Due to Guru Rinpoche's previous compassionate aspirations for these degenerate times, this practice carries the most penetrating compassion and wisdom blessings. Click here for Lama Tharchin Rinpoche's talk about Drupchen.
Restriction: People without children coming to Drupchen can come any day as long as you attend the entire first day and on other days also the entire day i.e. all three sessions and also take a mantra shift that day.