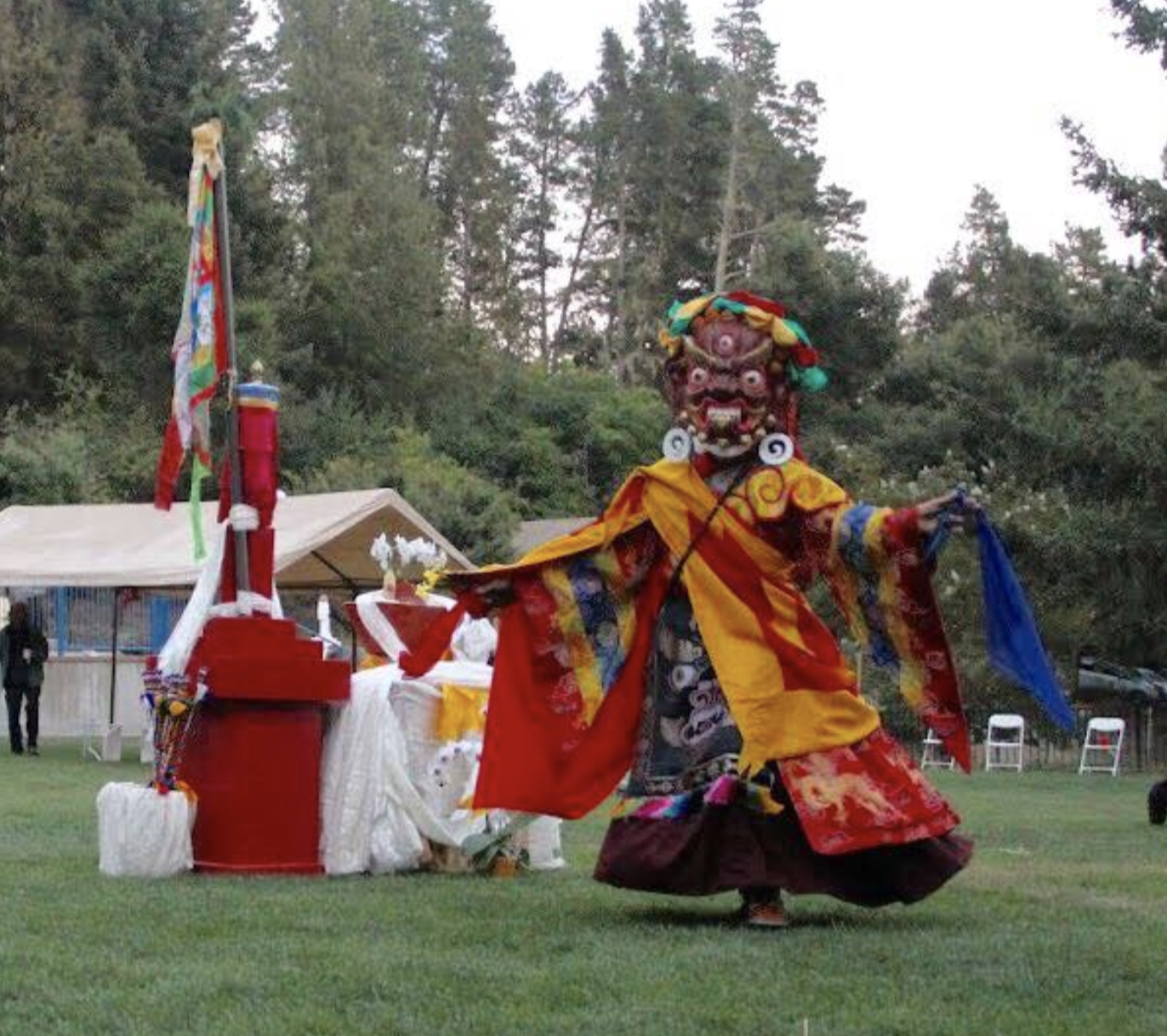 The Dance of Dorje Drolo
July 11th is Guru Rinpoche's Birthday, when we welcome the Eight Manifestations of Guru Rinpoche with ritual dance and song. Join us in the morning for the offering of siddhis (accomplishment ritual and sacred substances) and tsok (feast offering) for the conclusion of the Collection of Seven Treasures Guru Rinpoche Drupchen, or come just for the afternoon celebration to enjoy the traditional Tibetan sacred dancing, including Lingdro. The dances will be held outdoors on our shrine meadow, so bring a blanket to sit on and a sun hat.
Thursday, July 11 - Revised Dance Day Schedule
6 am to 7 pm - Seven Treasures Guru Rinpoche Siddhis Session - Lama Sonam reguests everyone to attend from the beginning.
Puja will be interspersed with sacred dancing all day, with meal breaks (Breakfast 9 am / Lunch 2 pm / Dinner 7 pm).
Siddhis will be at the end of the day.
Suggested Donation: Adults $20; Age 13-18 years $10; Age 12 and under free
THE DANCES OF THE EIGHT MANIFESTATION OF PADMASAMBHAVA
The Dance of Pema Jungnay
Pema Jungnay appears as the one born from the lotus, totally pure with no faults or attachments. HRI! You are unattached, unsullied by any flaw. Praise to the form of Pema Jungnay.
The Dance of Padmasambhava
Gykar Panchen, a great Indian pundit, displays all the qualities of a great scholar. You are the utter perfection of all positive qualities. Praise to the form of Padmasambhava.
The Dance of Loden Chokse
Loden Chokse's omniscient mind is inseparable from Buddha Manjushri. You are the undiluted regarding all objects of knowledge. Praise to the form of Loden Chokse.
The Dance of Pema Gyalpo
Pema Gyalpo manifested as a king who controls all three realms of existence: heaven, earth, and the world of supernatural beings. You bring the three realms and three states under your power. Praise to the form of Pema Gyalpo.
The Dance of Nyima Oser
Nyima Oser means ray of sunlight and is the form that dispels the darkness of ignorance. You dispel the darkness of delusion and tame beings. Praise to the form of Nyima Oser
The Dance of Shakya Senge
Shakya Senge, a monk who acquired the name "Sage of Shakya" becomes a great liberator of beings, destroying the four negative influences leading to non-virtuous actions. You tame the four maras and those who lead astray. Praise to the form of Shakya Senge.
The Dance of Senge Dradok
Senge Dradok is the destroyer of the wrong views of nihilism and Externalisms and also of demons, that arise when tantric vows are broken. You tame those with the extreme views and the demons of broken samaya. Praise to the form of Senge Dradok.
The Dance of Dorje Drolod
Dorje Drolod, the destroyer of enemies and obstructions to enlightenment, is the Eighth Manifestation of Padmasambhava. You annihilate arrogant ones, enemies and hindrances. Praise to the form of Dorje Drolod.