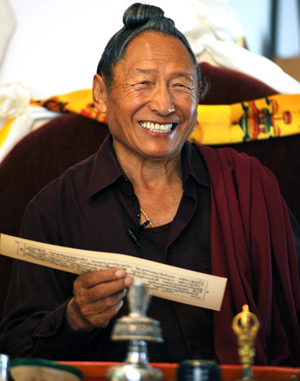 Join us for Lama Tharchin Rinpoche's Seventh Dechö (Parinirvana Anniversary)
August 03, 2020
Dorsem Lama Chöpa Puja by Streaming
There is no charge, but we invite you to make offerings for this special puja below.
Registration
Saturday - 8/03 - Lama Tharchin Rinpoche's 7th Decho:
Morning Session, 9:00 am
Afternoon Session, 2:30 pm
"When our teachers pass into parinirvana, this means that through their immeasurable compassion, they will be performing their wisdom activity in a different way. One of their activities is to remind us of the inescapable truth of impermanence - to compel us to practice seriously. It is very beneficial during this time (Decho) to do Vajrasattva practice and to sponsor tsok and butterlamps, as well as offer water bowls, prostrations and circumambulations." Lama Sonam Tsering Rinpoche
Recommended Practices and Swift Rebirth Prayers
If you are unable to join us by streaming at this time, Lama Sonam Rinpoche recommends the following prayers and practices:
• Vajrasattva Daily Practice (PDF)
• Dorsem Lama Chopa (print) or digital download
• Ka-Ter Dorsem (this practice is found in the following text: "Vajrasattva Meditation Ritual, Ritual to Guide the Dead, and Additional Practices" (print) or digital download
• 100 Syllable mantra
• Shower of Blessings (print) or digital download
• Seven Line Prayer (PDF)
• Tsok Kang Dechen (PDF)
• Swift Rebirth Prayer by Loppon Jigme Rinpoche (PDF)
We invite you to listen to Lama Tharchin Rinpoche's dharma talk in Seattle, April 17, 1993 - An Evening of Stories.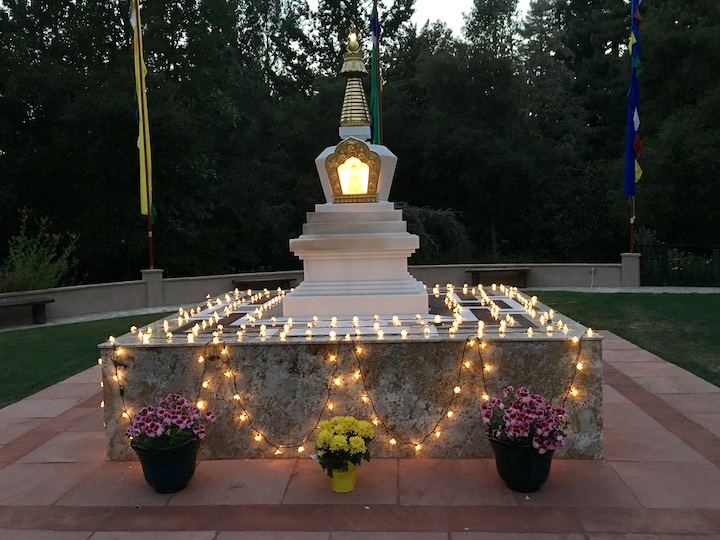 At Pema Osel Ling we will be offering strings of beautiful white lotus lights on the mandala base of Lama Tharchin Rinpoche's reliquary stupa. Lama Sonam Rinpoche has said that "by making light offerings, we are praying not only for the enlightenment of all beings, but especially for the swift rebirth of Lama Tharchin Rinpoche. The outer lights symbolize the inner light of our own practice. Our meditation cultivates our natural light. Light can manifest for many beings to dispel ignorance, bringing incredible merit to ourselves and to all sentient beings. By offering lights, we are praying that the inner light of all beings is joined with infinite light."
Thank you for making an auspicious connection with Lama Tharchin Rinpoche's Seventh Dechö by making offerings to Guru Rinpoche, which will support our Dharma Center at this critical time.
Daily Puja Streaming
General Support for Pema Osel Ling