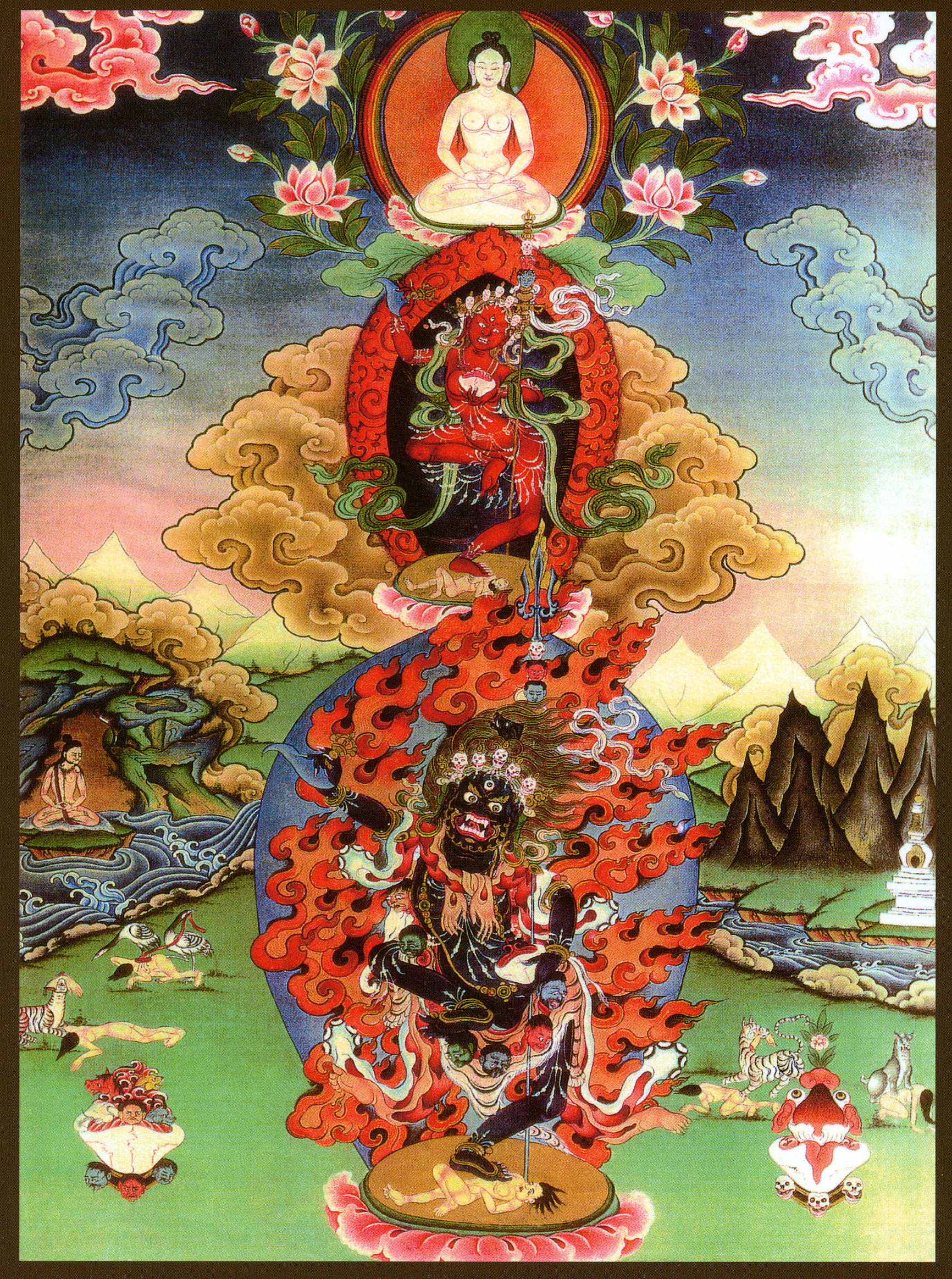 Troma Nagmo Ngondro and Four Feasts, by Streaming
with Lama Sonam Tsering Rinpoche teaching daily on the Four Feasts
Recorded teachings will be available for one month to those who register.
Registration*
(Streaming links will be provided upon registration)
Schedule (coming soon)
Text List (coming soon)
Troma Nagmo, the Black Wrathful Mother, represents the feminine embodiment of wisdom and is the innermost secret aspect of the dakini practice in the Dudjom Tersar lineage. It is the practice of Chöd, or severance, which uses exceptionally expedient wisdom methods to directly sever the root of suffering, dualistic clinging to a self.
"You who aggressively devour dualistic concepts with your sharp, white, bared fangs are ornamented with fearsome accouterments and are completely surrounded by the wisdom fire of the kalpas." (Pema Lungtok Gyatso, Dudjom Lingpa's Chöd: An Ambnrosia Ocean of Sublime Explanations, 2014)
Troma is one of the most profound termas (hidden treasures) revealed by Dudjom Lingpa. The Troma Cycle encompasses the full path to enlightenment, from Troma Ngondro through Trekchod and Togal. It is well known that through the Troma Nagmo cycle of practice, thirteen of Dudjom Lingpa's disciples attained the rainbow body, and it is predicted that many more will continue to do so for three generations to come.
During this 6-day retreat, Lama Sonam Tsering Rinpoche will give introductory Troma teachings and instructions specific to the Troma Preliminary Practices (Ngondro). Those participating in this retreat will receive a thorough and practical grounding in the Troma preliminary practices and will gain familiarity with the chöd (or severance) practice of the Four Feasts, as well as the concise Troma sadhana. Details of the retreat are coming soon.
While Troma Ngondro is generally undertaken only after completion of the Dudjom Tersar or other general Ngondro, students who have an interest in the Troma Cycle, or in Dzogchen in general, are urged to attend the retreat.
*FINANCIAL AID
During this time of the pandemic, we do not want finances to be an obstacle to participation and no one will be turned away. Please contact office@vajrayana.org if you have special circumstances and are not able to register at one of the suggested levels of donation. Your contribution of any amount supports the operation and activities of our teachers and Pema Osel Ling, especially during this challenging time.