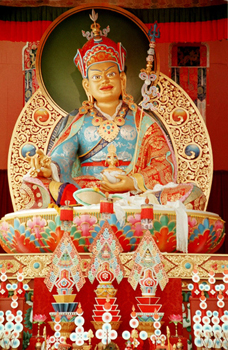 - Summer Retreat 2021 -
May 19 - June 20
By Streaming, with Tulku Jamyang Rinpoche and Lama Sonam Tsering Rinpoche
2021 Summer Retreat Schedule (Updated 5.27)
Tseyang Khatrod Retreat, May 19 - May 26
Troma Nagmo Retreat, May 29 - June 5
Shitro Ngakso and Neydren Ceremony, June 7 - June 9
Seven Treasures Guru Rinpoche Retreat, June 12 - June 20

These retreats will be offered over livestream to allow for Sangha to join us during these difficult times, please click the link for the retreat you are interested in above for more information and to register.
"Our precious Lama Tharchin Rinpoche established a one month Summer Retreat starting in 1989, calling it our "sangha dharma party", and we have continued it without interruption to this day. Every year we do practices of the Three Roots deities and conclude with Drubchen (Great Accomplishment). These practices help to counteract negative circumstances for each practitioner, as well as those negative circumstances which cause so much hardship for the whole world, including disease, famine, war, conflict, and especially epidemic diseases like we are experiencing now."[Lama Sonam Rinpoche]
Please register to receive the live streaming links. All donations support the streaming of dharma programs and help support the ongoing expenses of Pema Osel Ling. If you are not able to offer at one of the suggested levels, please contact office@vajrayana.org no one will be turned away for lack of funds.
*Please Note: Dates and Times are Approximate & Subject to Change*