"It is my heart wish that you come and make a connection with Khen Rinpoche (Orgyen Chowang Rinpoche) as he is truly special. Our lord of refuge Dungse Thinley Norbu Rinpoche has said that this khenpo is unlike any other – really genuine. Not only is his knowledge vast, but he brought this into his experience, so that when he teaches he talks from his heart, which brings authentic penetration." Lama Tharchin Rinpoche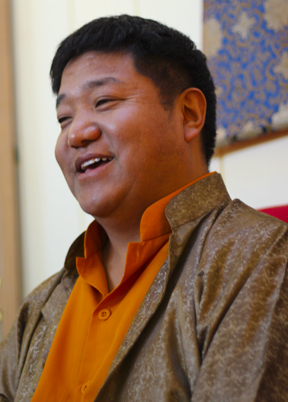 The Heart Essence of Longchenpa and Objectless Meditation


Traditionally, meditation practice is presented in two categories: meditation with an object and meditation without an object. This retreat will explore meditation instructions from the Vajrayana tradition, which emphasize combining the use of focusing on enlightened images such as Guru Rinpoche and abiding in one's natural state of mind through formless meditation.

The teachings will be based on a practice manual from The Heart Essence of Longchenpa that Orgyen Chowang Rinpoche has personally translated from the Tibetan.

Rinpoche will provide guided meditation instructions as well as commentary on how the practice can be applied to different circumstances and occasions, such as moments of happiness and sadness, when sleeping and eating, throughout our life and at the moment of death.

During these two days, we will practice together, meditate, and receive instructions from Rinpoche on this powerful form of practice that combines meditating with and without an object as a means of transforming our lives and journeying toward enlightenment.

Schedule


Biography
Orgyen Chowang Rinpoche is a meditation master and teacher residing in the San Francisco Bay Area. He is known for his practical, passionate, and joyful approach to personal transformation. Rinpoche is currently writing his first book and teaching in the Bay Area, as well as traveling throughout the world speaking on meditation and spirituality.


For a more detailed biography, please click here

Click here to experience Rinpoche's direct, joyful style, enjoy this extract from his teaching at Pema Osel Ling last year where he speaks on the importance of doing Ngondro as a proper foundation for the practice of the Dzogchen Great Perfection.