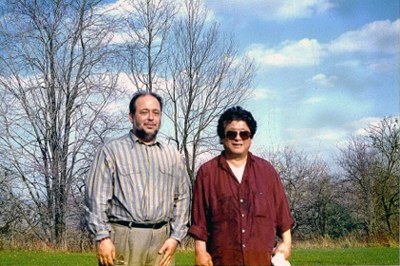 INSEPARABLE: Connecting with the Ultimate Guru (based on Kyabje Thinley Norbu Rinpoche's Cascading Waterfall of Nectar)
Ngondro practice, while quite literally meaning "before going", is a complete representation of all the Buddha's practices from the perspective of the Vajrayana and can be studied and practiced on a multitude of levels. A Cascading Waterfall of Nectar, in the same way, while by name a commentary on the foundational practices, has many layers that can be studied with great reward by everyone from new practitioners up to the most seasoned.
In this weekend course Sam Bercholz will explain some of the key points in this profound text, and aim to set the proper point of view and understanding for continued study of it for whatever level of understanding the listener is ready to receive. This particular program will focus on the sections regarding Guru devotion, both toward the outer and inner Guru, and the relation of that to the practice of Ngondro. The Guru is indispensible in Vajrayana practice, however one must not only think of the outer, physical form of the Guru in this regard, but also the essence or inner Guru. Through practice, we can connect with the ultimate Guru, which is beyond a particular form or time, which is the nature of mind.
Required reading: A Cascading Waterfall of Nectar by Thinley Norbu
I have known Sam Bercholz for many years as a close student of Kyabje Dungse Thinley Norbu Rinpoche. Sam is a very noble person. In addition to being empowered by Dungse Thinley Norbu Rinpoche to teach his most sublime text, A Cascading Waterfall of Nectar, Dungse Rinpoche made Sam his dorje loppon and often referred to him as Acharya Sam Bercholz (vajra master). A Cascading Waterfall of Nectar was written in English. Having this profound text taught by a qualified westerner, whose first language is English, is very helpful and will provide a direct lineage experience. I highly recommend that you all make a good connection with Acharya Sam Bercholz. Please come and take this opportunity – don't miss this auspicious chance!


- Lama Tharchin Rinpoche