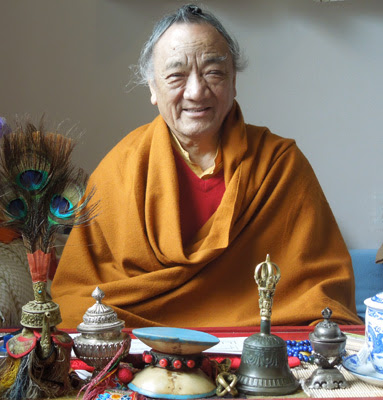 Lama Pema Dorje Rinpoche
Lama Pema Dorje Rinpoche's Long Life Prayer
Lama Pema Dorje Rinpoche's Biography
Register (no charge, but to help us with plannning)
At the request of Lama Pema Dorje Rinpoche's devoted students from the Vajrayana Foundation and Ngakchang Gatshal Ling, we will perform a traditional Sun Dok Tenshuk (long life) ceremony for our most kind and precious teacher on Sunday, Feb. 25, Guru Rinpoche Day.
Tulku Thadral Rinpoche, Tulku Jamyang Rinpoche and Lama Sonam Rinpoche will lead the ceremonies.
7 AM Khandro T'huk T'hik longevity puja
10 AM Tenshuk ceremonies
There is no charge but there are many ways you can support this special ceremony.
In accordance with our lineage's custom, you may make a donation to sponsor a Ku-Sung-T'huk (Vajra Body, Vajra Speech, Vajra Wisdom) mandala offering which you can present directly to Rinpoche, or we can arrange for someone to offer it on your behalf while your name is read.
Click here
to learn about the Ku-Sung T'huk sponsorship and for other ways to support the Tenshuk, including tsok and butterlamps.
Although there is no fee,
please register
so we can prepare and plan.
There will be a light breakfast of fruit and bagels served Sunday morning and tsok in the afternoon.
Limited lodging is available Saturday night - advanced lodging registration required.
We hope you will be able to join us for this very special event.