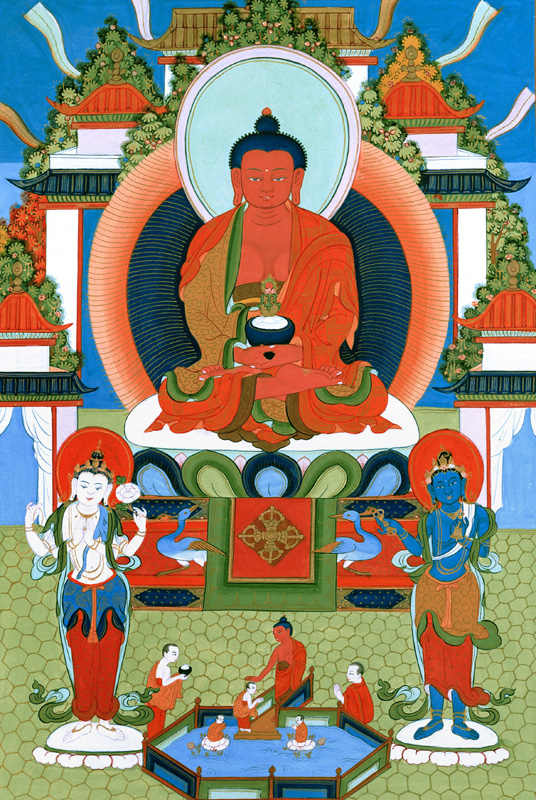 Amitabha Phowa Retreat
Thanksgiving Weekend with Lama Sonam Tsering Rinpoche
November 25 - 28, 2021
In-Person and By Streaming
(Please note: In-Person attendance will require proof of vaccination, as well as Masks being worn in the shrine room and in public indoor settings)
Housing is extremely limited. We urge you to register soon, especially if you want to stay through to the Vajra Armor Retreat.
Thanksgiving Day, Thursday, November 25
Buddha Amitabha Tsok (in-person and by streaming) - 1 pm
To join the livestream, click here - https://youtu.be/uFJdNOVWahY

Online Viewable Text: https://dudjomtersarngondro.com/thanksgiving-amitabha-practice/
Main Text: The Excellent Path to Omniscience
Some loaners will be available in the shrine room.
Thanksgiving Dinner: There will be a sangha dinner this year, although we cannot accept pot-luck contributions to the meal, due to Covid precautions.
"Thanksgiving is a special day for loved ones to join together however they are able, and for that reason it is positive... We are doing this puja to pray that these turkeys be reborn in Amitabha's Pureland. This practice will focus our compassion for them and all sentient beings, including our loved ones who may be ill or have passed away." Lama Sonam Rinpoche, 2014
Click Here to make offerings for tsok or butterlamps.
November 26-28 - Amitabha Phowa
The Vajrakilaya Explanatory Tantra says "Death is a concept; Phowa leads us to the celestial realm."
Lama Sonam Rinpoche will teach on Amitabha Phowa, using Kyabje Dudjom Rinpoche's Chariot to the Realm of Bliss instruction manual, a text that was compiled by Lama Tharchin Rinpoche in 2008 (see the text list for availability in print and digital formats).

"Phowa, or transference of consciousness at the time of death, is one of the most precious among all the pith instructions and tantras of the Great Secret Vajrayana. It is a profound pith instruction for accomplishing buddhahood with very little effort. It is a practice for sentient beings in these degenerate times, ignorant and lazy beings with short lives and coarse passions, who even though they may have obtained instructions on creation and completion, are under the sway of distraction and unable to complete their practices. Even those who have committed the great sins of the five actions with immediate consequences, if they encounter this path, are immediately liberated at the moment of death. P'howa is an auxiliary practice on the profound, extraordinary path of the Great Perfection.

"There are practices of Outer, Inner and Secret Phowa. The Three Concepts Phowa utilizes visualization of the Buddha Amitabha as the destination, your mind as the traveler, and the central channel as the path. This Phowa requires faith and devotion in Buddha Amitabha.
"All beings who have not already received instructions for liberation at the moment of death definitely need these instructions on the profound path of Phowa. It is the best method for cutting the root of samsara and avoiding falling into the lower realms at the end of this human life. It is essential."
Lama Sonam Tsering Rinpoche, 2018
*Note - Video recordings of all teaching sessions will be available for at least one month at the YouTube links for those registering for the online sessions. However, participants must watch/listen to the Chariot to the Realm of Bliss Oral Transmission in real time.
To receive the links to stream the oral transmission and to access the teaching recordings, please make your offering according to your circumstances during registration. All donations for the streaming and digital text will cover not only the cost of this event, but will help support the ongoing expenses of Pema Osel Ling. After making your payment, PayPal will direct you to a webpage with the YouTube links. If you are not able to offer at one of the suggested levels, please contact office@vajrayana.org.
There will be an opportunity to ask personal Vajra Armor practice questions.
*FINANCIAL AID
We do not want finances to be an obstacle to participation and no one will be turned away from the teaching sessions. Please contact office@vajrayana.org if you have special circumstances and are not able to register at one of the suggested levels of donation for streaming. Your contribution of any amount supports the operation and activities of our teachers and Pema Osel Ling, especially during this challenging time.