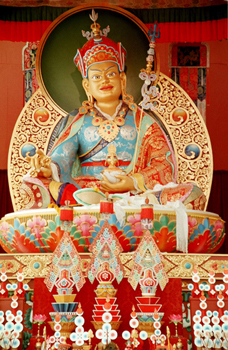 Full Retreat Schedule REVISED

Pricing (contact the VF office to register with the member code)


Make an offering for Summer Retreat Butter Lamps, Tsok or Jinseks
"Summer Retreat is our Dharma Party, where we gather together. It makes me happy. It also makes HH Dudjom Rinpoche and Kyabje Dungse Thinley Norbu Rinpoche happy because even though their physical body is not with us, their wisdom mind is always watching from Dharmakaya and their compassion and penetration of wisdom blessings is continuous. With practice, teachings, faith and devotion, their wisdom blessings penetrate deeply so we can truly hit the target. I am encouraging all of you to come to Summer Retreat." Lama Tharchin Rinpoche

Lama Tharchin Rinpoche began Vajrayana Foundation's annual month-long Summer Retreat 27 years ago as his main vehicle for passing the Dudjom Tersar lineage on to the Sangha. In this he was tirelessly assisted by resident lamas, Lama Sonam Tsering Rinpoche and Tulku Jamyang, who continue to carry out Rinpoche's intentions post Rinpoche's parinirvana.

We have just completed our Dudjom Tersar Troma Nagmo Ngondro retreat with Sangye Khandro and our Dorje Drolod retreat. Starting tomorrow, June 15-16, Tulku Jigme Wangdrak Rinpoche will lead our Shitro Ngagso Retreat, also presiding over a Neydren death ceremony both days. Tulku Jigme Wangdrak Rinpoche will also be one of the lamas attending the Collection of Seven Treasures Drupchen this year. To read Lama Tharchin Rinpoche's inspirational words about the Drupchen practice, brought to us through Khandro Yeshe Tsogyal's kindness, please click here.

"This time is important to me as all my Dharma friends gather together in one mandala, which makes me very happy. In this way we deepen our connection and loving experience of each other in the Dharma" – Lama Tharchin Rinpoche. Summer Retreat is open to everyone. You are welcome to do the entire Summer, a single retreat, a few days or a couple of sessions --- as your schedule allows --- either as a commuter or as an onsite guest. Regarding Drupchen, it is suggested you come to the whole retreat. If you are only to attend partially - restrictions apply. Please visit the Drupchen section to see what these are.


The retreats coming up are as follows:
Shitro Ngagso:June 15-16 REGISTER
Collection of Seven Treasures Drupchen:June 18-26 REGISTER (also use this link to register for children's retreat)

Completed Retreats


_________________________________
Shitro Ngagso:June 15-16

Kyabje Dudjom Rinpoche compiled this 100 Peaceful and Wrathful Deity practice, based on a Karma Lingpa treasure, to remove practitioners' obstacles to the path by restoring all broken precepts, vows and tantric samayas in order to achieve fully enlightened Buddha hood. Click here for a teaching on the importance of Shitro by Lama Tharchin Rinpoche

Tulku Jigme Wangdrak Rinpoche will preside over the Shitro practice and will also perform a NEYDREN ceremony to help sentient beings who have died and are wandering in the bardo. Through symbols, seed syllables, etc., the dead person's (or animal's) consciousness is drawn in and is finally transferred to the pure land. This ceremony is not only effective for beings who have recently died but "can even be done many years after a person has died since time only pertains to relative phenomena and is not absolute," said Lama Tharchin Rinpoche.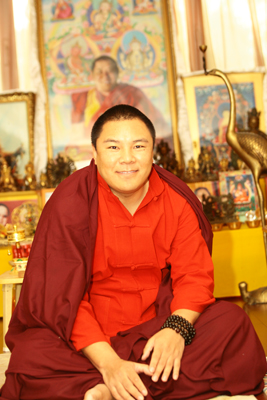 Tulku Jigme Wangdrak Rinpoche was born in the Golok region of Eastern Tibet as the fourth lineal descendant of the great Tibetan master Dudjom Lingpa, one of the foremost spiritual masters of 19th Century Tibet. He attended Larung Gar Monastery and studied Buddhist teachings in great depth, including Sutra and Tantra as well as Dzogchen pith instructions and empowerments with Khenchen Jigme Phuntsok, who formally requested for Rinpoche to teach and preserve the lineage of Dudjom Lingpa. In addition to his training at Larung Gar, Rinpoche received teachings from a well-known female teacher and descendant of Dudjom Lingpa, Dakini Kunzang Wangmo, who also encouraged him to teach and preserve the Dudjom lineage. In 2014 Rinpoche founded The Abhaya Fellowship, which is a Buddhist community dedicated to keeping the Nyingma lineage of the Dudjom Tersar alive, and functions as an umbrella for activities like meditations retreats, teachings and as a center for satellite sanghas or practice communities.


Collection of Seven Treasures Drupchen:June 18-26


Restriction: People without children coming to Drupchen can come any day as long as you attend the entire first day and on other days also the entire day i.e. all three sessions and also take a mantra shift that day.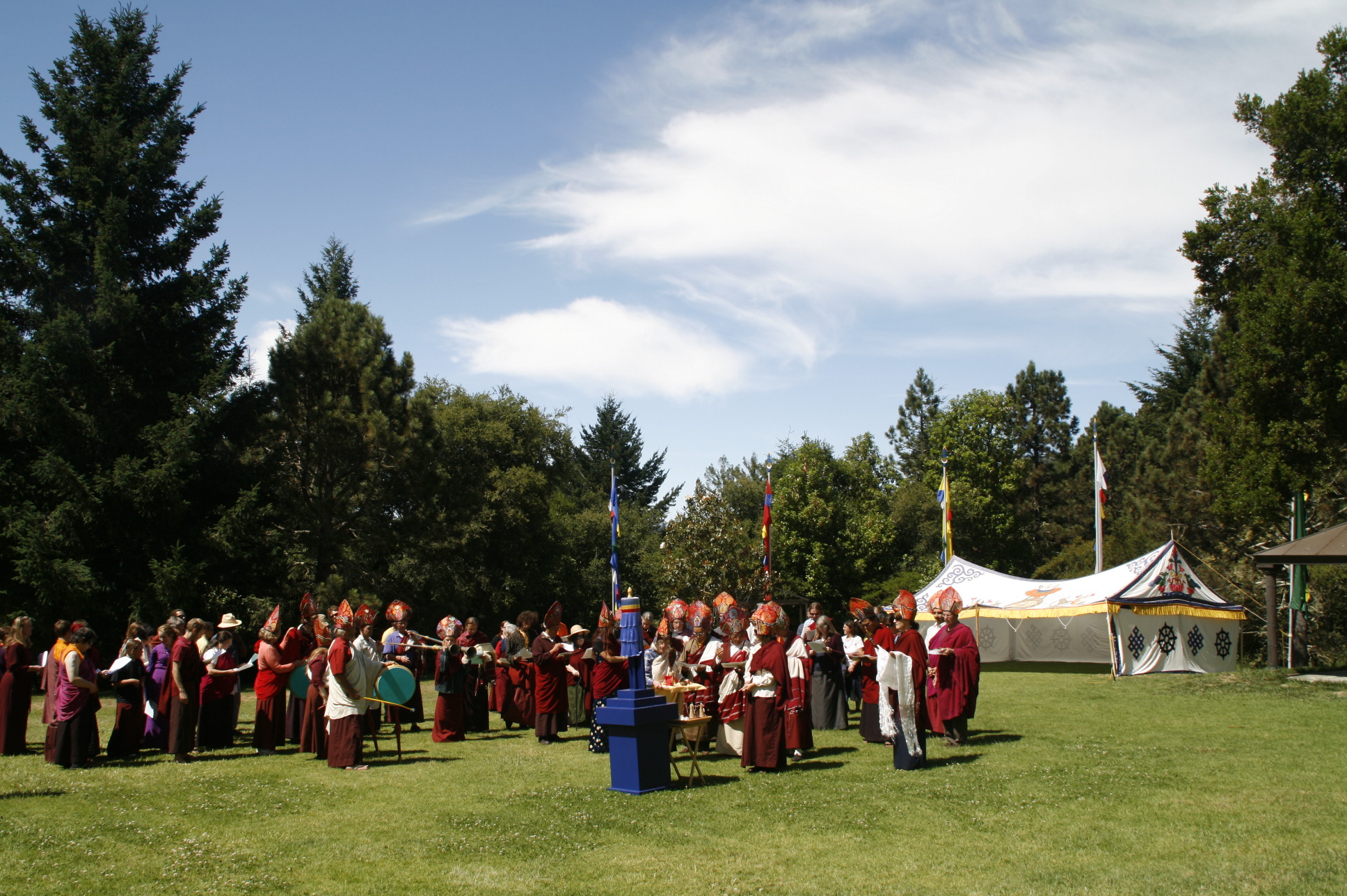 Drupchen (Great Accomplishment) is an extensive practice retreat. In the Collection of Seven Treasures: the Mind Accomplishment of the Lama we perform, as a group, this elaborate Guru Rinpoche guru yoga practice drawing upon the full array of the skillful means of Vajrayana practice, such as the creation of the mandala, group sadhana practice, tsok offerings, 24-hour mantra recitation, ritual music, mudra, fire pujas, and sacred dance. Due to Guru Rinpoche's previous compassionate aspirations for these degenerate times, this practice carries the most penetrating compassion and wisdom blessings. Click here for Lama Tharchin Rinpoche's talk about Drupchen.

Sacred Tibetan Lama Dances: June 26: Guru Rinpoche's birthday concludes the retreat and is celebrated with an afternoon of sacred dance. To view these rarely performed dances is a great blessing. Everyone is welcome.


Children's Retreat:June 19-25
Children's retreat is open to children aged 3-12. A full program of dharma-related activities will be offered. Please contact us at office@vajrayana.org if your child/ children can join us.

Letter from Lama Tharchin Rinpoche:

I am truly encouraging parents to influence their children to come to kid's retreat this summer at Pema Osel Ling. It is very important because although as parents our generation is already engaged in the Dharma, we are responsible to pass this Dharma lineage onto the next generation. Especially for young children to have experience in Dharma is so important. Because, for example, you can plant 2 plants, one that is medicinal and one that is poison, and the one that is planted first and receives care will grow the biggest. Planting the Dharma habit lasts forever and continues to grow. Parents can influence children in the Dharma by encouraging them to participate in summer retreat. They can also show children the Dance DVD from HH Thinley Norbu Rinpoche that is available in the bookstore to encourage your children.

I really LOVE when children come to summer retreat. It is good for them, but more important it is especially good for me!

Lots of Love and Respect, Lama Tharchin Rinpoche